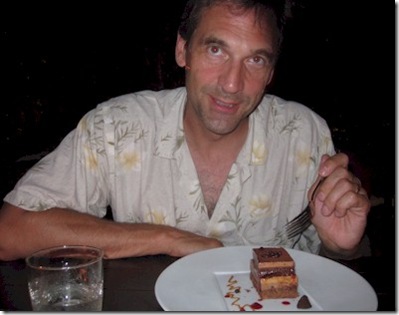 Happy Birthday Lori!
Today my companion in all my adventures celebrates the major milestone of her 50th birthday. Lori was the one who was initially responsible for my immersion into all things Maldives. After living in the United Kingdom for nearly a year, we hit the dreary, grey winter months. After many weeks without seeing the sun, Lori confronted me with the ultimatum, "Bruce, either you pay for a tropical holiday or you pay for psychotherapy. Either way you are going to pay, but might I suggest that you might enjoy the tropical holiday more." My friend Andy Lees insisted that the only place to take her was the Maldives. And the rest was history.
On this day, the thing to celebrate is cake. There are a plethora of spectacular chefs in the Maldives so I am typically very hesitant to ascribe any 'Best of Maldives' for specific foods. Most of the 'Best of Dining' accolades go to distinctive experiences or venues. If I am going to accord a kudos, it needs to be quite a narrow area (like Sheraton Full Moon's Gazpacho).
While I couldn't whisk her away to the Maldives, I do have special gourmet treats planned for her tonight, including a special chocolate cake which evoked one of the most memorable desserts we ever enjoyed in the Maldives – the W Retreat's '7 Layer Chocolate Cake'. Like Lori's birthday surprise, the cake was two months in development by Pastry Chef Sanjit Gupta. It mastered that paradox of rich flavours with exceedingly light feel to it.
The 7 layers were…
Sacher sponge

Chocolate marquis

Chocolate Brule

Hazelnut custard mousse

Chocolate jelly

Milk chocolate mousse

Cocoa powder
Exquisite…like Lori.