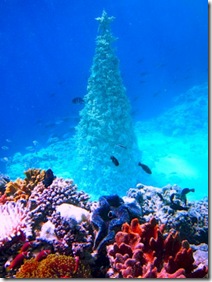 Wee fish you a 'mer' eco-ristmas!
An inspired underwater creation at Anantara Kihavah this holiday season…
"Is it a rock? Is it a tree? Is it an eco-friendly coral Christmas tree under the sea? Anantara Kihavah Villas in the Maldives' UNESCO Marine Biosphere Baa Atoll region has taken its unique coral adoption initiative to new festive depths with the creation of an underwater Christmas tree made entirely from reef coral collected from the seabed. Diners at the exclusive island resort's Sea Restaurant, one of the few underwater restaurants in the world, can view the Christmas tree display along with striped lionfish, moray eel and eagle rays while savouring the Indian Ocean's abundance of marine life."
I have had to adapt a version of the classic carol 'Oh, Christmas Tree' for this creation…
Eau Christmas Tree, Eau Christmas tree,
How lovely are your nudibranchs!
In beauty green and blue as one,
Through summer sun and winter sun.
Eau Christmas tree, Eau Christmas tree,
How lovely are your nudibranches!
Happy Holidays to everyone! Peace on Earth and Goodwill to All.