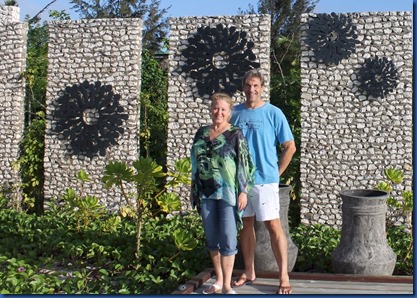 Breezy and easy. Grand Park Kodhipparu simply struck us as an easy resort. Easy transfer, easy access to everything on the diminutive island. Easy access to one of the several house reefs from the water villa (just a few dozen feet from the back deck).
The resort was a particularly welcome respite after the frenzy of several days of island hopping. I'm sure it would be one for someone wanting more of an escape holiday. It's also a bit easy on the wallet as it is value priced in the 5-star segment while offering a thoroughly 5-star experience in build, service and amenities. I came away with a number of candidates for future Best Of the Maldives pieces and the GM Raffaele shared some intriguing plans for further enhancements they are working on.
We also extended our string of serendipitous meetings. This time with a longstanding connection on the web-side: Ibrahim Mahudhee, Managing Director at Maldives Promotion House which does the website Maldives Insider. MI is often the first to scoop breaking news on the resorts and is the source of many additions of planned resorts to the Maldives Complete database as well as leads for Best of Maldives innovations. I've been considering doing a piece for MI for a while and Mahudhee encouraged me to do so as we exchanged a few ideas on topics.
If you are stressed by all the choices in the crowded luxury sector of Maldives resorts, Grand Park Kodhipparu is an easy choice.