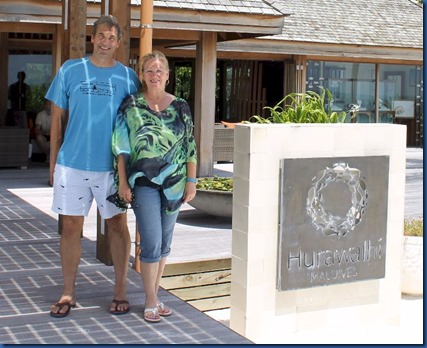 Hurawalhi is a "5+" star resort. I could almost make the case that it is a "6 star" resort, but the marketing director for the resort says "Wait till you see Kudadhoo" (Champa's latest offering under development just across the water along their chain of properties at the top of Lhaviyani atoll).
One of our frustrations in past was that everyone in the Maldives was calling themselves a 5-star (over 60% of the resorts in the Maldives Complete database are listed as 5 star). And you will find some real divergences in the quality of what is being called 5-star. On one end are properties that are quite indistinctive but get away with over-rating with a "5-star" label because, essentially, the destination is 5-star. People come and no matter how tired the décor and limited the offerings, the place still seems like a 5-star experience because the guests are blown away by the stunning surroundings of the landscape and seascape. I have often said that you could have a 5-star experience in the Maldives staying in a cardboard box on the beach.
On the other extreme are properties that really don't seem right to call 'just' 5-stars. The ultra-deluxe properties that seem to defy any sort of rating scale. I tend to call these "super premiums". They are really in a class by themselves and hence some people in the industry refer to them colloquially a "6 star" properties (the Burj Al Arab took a bit of stick when it opened, referring to itself as the world's first "7-star hotel").
The whole star rating system is a bit of a mess. It started as a hospitality industry standard tick-box exercise for certain amenities on the resort (eg. the number of power outlets and whether you had a bidet or not). People confused the hotel "rating" with the review ratings of guides like Michelin and Zagats. Then, crowd-sourced ratings came to the web on popular travel sites like TripAdvisor and Booking.com. These ratings tend to reflect another aspects altogether. They are really about 'performance against expectations'. As a result, you can get real dives getting '5 star' reviews because the experience is so much better than the guest expected for the pennies that they paid. Furthermore, all the reviewing is basically being done by amateurs.
Given the power of ratings from sites like TripAdvisor, many properties now seem to be going in the direction of under-rating. They call properties that could easily pass as 5, a 4-star. But they often append the now popular "+" designation to note a cut above the rest of class with a bit of style and distinction, but (sensibly) fear exaggerated expectations if they don the 5-star moniker. It is a way of saying "4 star with 5 star touches". All of this diatribe about rating is to provide context for my description of Hurawalhi. Hurawalhi is the first resort I have found where this approach would be appropriate at the 5-star level, ie. 5+ star resort.
Hurawalhi is very much a 5-star star through and through. Every design feature, attention to detail, material choice, offering, etc. are all specified at the first class level. Natural wood everywhere (and the wood shingled roof, instead of thatch, which will save lots of total cost of ownership). Think Rocky Mountain Lodge or Chamonix Chalet, not native hut. Every single fixture and external appliance is tastefully and craftily covered. Their flawless attention to detail with this simple, natural material shows that you don't need Italian marble and exotic materials to produce a stunning environment. Just elegant design with quality materials.
The biggest above-and-beyond the world of typical 5-star is the resort's underwater restaurant, 5.8. I've posted about the 5.8 previously in its construction stage where its sheer ambition presented so much promise…and expectations. But now I can put a bit of first-hand perspective into the account. The food doesn't get much better than this. "Smoked lobster and sea urchin mousse served on a garland crest with cognac emulsion, lobster salsa, squid ink brittle, poached langoustine tail and topped with beluga caviar served 5.8 metres underwater." Yes, that. We've eaten at several 3-star Michelin's in our foodie adventures and 5.8 stands shoulder to shoulder with them.
But the real experience is the room itself. I have visited several of the Maldives underwater facilities, but I had never actually taken the plunge (so to speak) of dining in one. More than any other one I have visited, Hurawali has done an exceptional job of placing the restaurant and enhancing its location. One side is right on the edge of the house reef drop off and the other opens to the expanse of the lagoon. Between the two, through the floor to ceiling glass wall is a sort of canyon that provides a view of coral and fish in sort of a raked fashion. Like many other underwater rooms, they have done a bit of reefscaping to provide greater visual appeal and to attract more fish. But a clever little twist is a sunken mini-dhoni 'wreck' in the lagoon which not only provides an added lure for reef fish (and a sequestered moray we spotted), but also adds a bit of eerie mystique to the whole vista.
While they do both a private breakfast and a lunch seating, the best time to go is for dinner. You are greeted with a sunset cocktail while the sky is still bright and underwater is still vibrant with sunshine piercing into the water. But as the 7-course affair progresses, the light subtly changes with every course and so does the marine life and activity. Until by dessert, it is completely dark and the nocturnal activity is in full swing. And it's not just the sea creatures that are a buzz. The whole place has a unique camaraderie of a unique shared experience. Diners commenting to each other on curious spottings, asking questions, sharing reflections, helping with photo taking.
Objectively, 5.8 is the greatest (in size) underwater restaurant in the world. But subjectively, 5.8 might just be simply the greatest underwater restaurant, full stop. And Hurawalhi might not let you call it a 6-star, but it is so much more than just 5 stars.