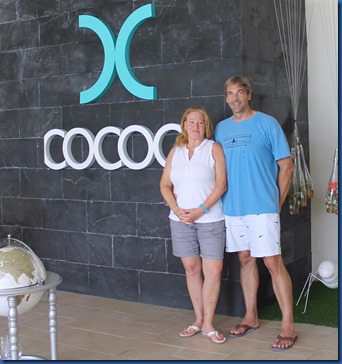 Good design adds value making the whole greater than the sum of its parts. Cocoon describes itself as "the first design resort in the Maldives". I wasn't sure about the "first" as I have seen lots of fine design across the islands, but it certainly first class for this spirit of design – adding value. And in so doing, it is one of the best value 5-stars you will find.
I find many of the bling palace resorts doing the reverse – trying to inject cachet into their properties by importing the most exotic materials and ingredients, anything shiny or rare, and throwing them together on a grand scale with an equally towering price tag. They are a pile of the trappings of luxury and not luxury by design.
The property is named after the movie "Cocoon" and the magic pool that brought eternal youth (One of the more inspired resort names. The group is also developing a sequel, "You & Me" in the Raa atoll which happens to be a film about even more intensive recovery). But the inspiration for the property design is Italian designer Lago. A range of clever, distinctive and actually subtle touches filled my "Best of the Maldives" notebook during my visit (stay tuned).
Equally to the clever and subtle styling, it was the value that impressed me. Priced more like many 4-stars, the resort has designed its entire proposition to optimise not just the guest experience, but the bank account experience. Each beach villa has a comfy sofa bed for an extra child and they can bring in a second roll away. For a limited time, they are offerings a two kids eat and stay free (guests do have to pay for the transfers). That would have been a top appeal when we were visiting as a family. And their a la carte Manta restaurant is extremely reasonable with main dishes around $20 (not too much different to a decent English gastro pub).
If you are put off by the escalating prices of the Maldives or wary that too many value-priced "5-stars" are just tired properties compensating for their dated look and wear-and-tear with discounting, then you need to get a quote from Cocoon.