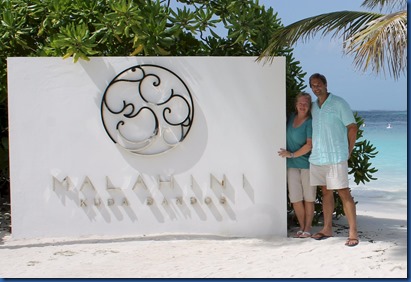 Malahini Kuda Bandos is one of the best bargains in the Maldives. With some promotions, you can find rooms just over $100. And that's for a proper resort. Not a guesthouse. Not a hotel. The rooms are no Ritz Carlton and the restaurant is not Alain Ducasse, but it is the Maldives.
And it includes a number of first class features. The island is a gem with some of the softest sand on its beaches as you will find anywhere. Pancakes are lighter and fluffier than anywhere in UK and the buffet also includes Red Velvet Croissants (who knew those were even a thing). With an extensive buffet you can find something you like a lot. You are getting the same omelette, porridge, fresh fruit that you get a 5-star property. It has a very accessible housereef with a nice drop off (though it has also suffered the bleaching that has affected all Maldives reefs). The island is a convenient 15 minute transfer from Male, but you are far enough away from the capital that you don't feel like the urban island is breathing down your neck, but instead is off in the distance on the horizon.
The rooms are simple, but they are new, fresh and attractive styling. The majority of rooms are Garden Villas which are not everyone's idea of a tropical holiday (being in a block of apartments in the centre of the island), but they have their dividends. The underwhelming room forced us out of the room to go to the Bluu bar and enjoy a wonderful evening and morning by the beach. The obvious key attraction is their price. The bedrooms even an extra sleeper lounger for a child to stretch your room cost even further.
One final, observation that I'm not sure how to interpret: a very large proportion of the guests were two females. Wondering if I was just getting a skewed sample that was adding to a confirmation bias, I did a count of tables at breakfast, and yes, half the tables were occupied by two women. Curiously, Lori has been plotting over WhatAp during our trip for the dream of all her girl friends coming to the Maldives for a girlie trip. With a group of friends, the digs don't have to be fancy, and you do need to sort of cater to the lower common budget so everyone can manage the trip. So maybe there is something in Malahini Kuda Bandos being a girlie escape destination.