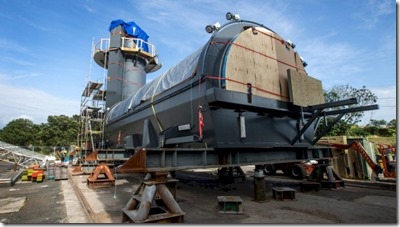 I've always wondered how they made those underwater restaurants (and spa and night clubs, etc) in the Maldives. Did they drop in components and then pump water out? As it happens, these subaquatic wonders are completely refabbed, shipped to the resort and lowered whole into their new lagoon home.
The new resort of Hurawalhi is the latest in the underwater pantheon. And some recent reports on their underwater restaurant is providing a behind the scenes look at this remarkable engineering. The supplier M.J, Murphy in New Zealand posted some "how do they do that" details on their site recently…
"Following the usual 10km route from Fitzroy's factory to the port, the 410 tonne Underwater Restaurant was manoeuvred alongside the giant crane ship "The Fairlane", using 3 trucks. Then on 11 Feb, the two giant 400 tonne cranes lifted the UWR onto the ship and readied for its 3 week trip to the Maldives…The acrylic is optically perfect, so diners will feel 'immersed' and surrounded by the ocean and the fish life. There will also be a large spectacular panoramic underwater acrylic window (190mm thick) in the end of the UWR which is expected to wow the lucky diners, with amazing long views along the sloping coral reef."
Here's hoping that everything goes down well at Huravalhi.