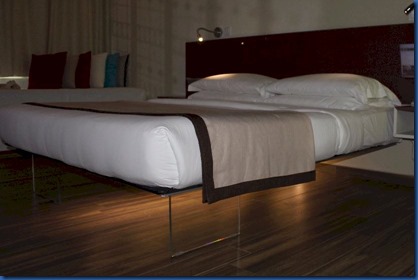 At Cocoon Maldives, over-sized flamingos and indolent marine life aren't only things floating around. The resort has infused the buoyancy of the surrounding waters throughout the property with furnishing that themselves seem to float like puppy black-tips skimming the surface.
"The LAGO furniture floats on glass stands to highlight the lightness sensation that the Ocean water villa exudes, on the boundaries between the beach and the forest."
Examples include bar tables, coffee tables, settees but most prominently the beds which have soft lights underneath them which amplify the illusion at night. A new meaning to the phrase "drift to sleep".