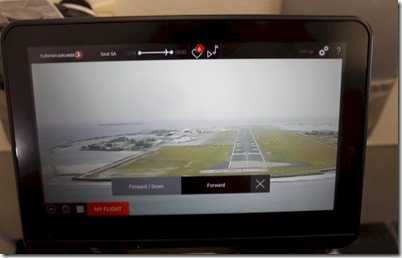 Our 14th trip to the Maldives and my 6th Tour and before I've even arrived I have experienced a few "firsts"…
1st Transfer Flight to Maldives –When I first started visiting the Maldives, the tour operator flights on Monarch Airways stopped in Bahrain for refuelling, but you stayed on the same plane. In recent years, I've always flown direct usually on the trusty BA2043 (though one year I tried the Sri Lankan Airways direct flight).
1st Time in Turkey – Transfer in Istanbul had me set foot on Turkey for the first time in my life (though I can't really tick it off my country list since I didn't officially "enter").
1st Time on Turkish Airways – I travel quite a bit for both business and pleasure using a range of carriers (I favour BA for the miles and perks of my Silver status, but I readily choose a more convenient or better priced option), I had never used Turkish Airways. Generally quite impressed (see below).
1st Full Atoll Itinerary – I typically focus my Tours on a particular atoll for the mere sake of logistics. It's easier to speedboat to the next resort across the water than jockeying seaplane transfers through Male. Despite my efforts, I have in the past always missed off a resort or two. But this year's trip to Haa Alifu and Noonu hits all the active resorts there.
With BA's recent service reduction to Male for half the year, I was forced to succumb to the dreaded stop-over flight. The transfer was Istanbul's Ataturk airport. One would think that with Istanbul/Constantinople's heritage as the gateway between Occident and Orient an airway hub would be a prime opportunity for Turkey to reassert its position at the center of the Eastern Hemisphere.
And it appears that they are certainly thinking along these lines. The airport is quite an extensive place, but what really sets it apart is its crossroads role. We arrived late in the evening around 11:00 pm. In every airport I have ever been to (and I have been to a fair few), this sort of hour is when the airport is pretty much closing up. The stores and restaurants are shuttered, the terminals empties, the lights dimmed, the janitorial staff buffing floors as the final arrivals filter in. At Istanbul airport, midnight might as well as be noon. The place was packed with passengers all in transit to their ultimate destination (so packed that Lori and I struggled to find a free seat to sit down). Destinations all over Europe and Asia listed on the Departures board showed a regular stream of flights taking off throughout the wee hours of the morning. .
Turkish Airways mostly impressed me, but it wasn't all smooth sailing. First the good news…
Price – Not a huge differentiator as our tickets were maybe £100 cheaper than the alternatives, but they were the cheapest.
Selection – Turkish Airways had by far the most flight options for us. This helped considerably to craft just the right itinerary which accommodated our schedules on departure and arrivals to a tee.
Timing – Most east-to-west long haul flights are pleasant day-time affairs as chasing the sun keeps the whole journey confined to a single day. But most west-to-east long hauls entail an overnight. That is where stop-overs (especially with changes) can cause problems. When we first used to fly charters to the Maldives, they would depart London very late and stop in Bahrain at about 5:00 in the morning. You were just getting to peak bleariness when you had to drag your bleary-eyed self off the plane while they refuelled to wander around a duty free and modest café. The Male itinerary left late afternoon (giving us a full morning to ourselves to sort final personal details out at home) and arrived in Istanbul in less than a 3 hours (a hop short enough to not really get uncomfortable). And then you could disembark and stretch your legs a bit before boarding for the red-eye portion of the trip.
Hub – As noted above, all the stores and restaurants were open with some decent choices including international standards like Burger King and Sbarro.
Courtesy Pack – Choppard badged courtesy kit with little slippers and the obligatory toothbrush kit and eye mask (see picture below)
Take-Off/Landing Video – This fun feature brings a bit of spectacle to take-offs and landings to or from any airport, but in the Maldives the vista is all the more spectacular cruising into one of the

most beautiful airport approaches in the world

.

Internet – In flight Internet for a very reasonable 1 hour for $10 USD and 24 hours for $15.
Big Bathrooms – Not really sure what benefit this is unless you just find the typical airline water closet a bit claustrophobic, but TA has the biggest bathrooms I have seen.
Dinner – Quite a tasty meal. I'm a bit tired of the chicken curry / stewed beef / cheese pasta selection on most long hauls. So the poached salmon and mashed potatoes was a fine little treat with credible accompaniments (including chocolate mousse which I think all airlines should default to for their go-to dessert. It's hard to screw it up and who doesn't like chocolate whip?).
Entertainment – Substantial high resolution screens (about iPad sized) with a good range of shows, games and other things on demand.
Tea – The hottest tea I have had on an airplane (and it tasted lovely). It makes me wonder even more by British Airways, the flagship carrier for the land of the cuppa, has to serve such tepid dishwater.

But Turkish Airlines also had a few disappointments…
Orderliness – The boarding queue was just short of a Ryanair scrum for a Malaga flight on mid-term break. The blatant disregard for order and rules came to peak as dozens of passengers stood up from their plane seats while it was still taxing in from the runway. Not a few feet from the terminal, but virtually as soon as the plane touched the ground. Unfortunately, Turkish Airways didn't do much to manage the chaos and just let the throng rule.
Hub – Yes, I know I listed this one as a "positive" also (I'll give it its due credit for a few assets). Despite its scale, Istanbul airport is just two cartons of live chickens short of a third world airport. The toilets are the worst of any major airport I have been to. It's cramped, overcrowded, and ill-equipped. Happy to get on the plane to Male.
Breakfast – The "Turkish Pastry" was, well, interesting even to my eclectic palate, but the "scrambled eggs" were, hmmm, ridiculous. I had to look on the menu card to see what this yellowy runny foam was. Some exotic middle eastern delicacy? No, probably powdered eggs hardly cooked. Probably the worst item of food I have ever been served on a plane (and that includes my travels on Air Afrique in the 80s!).
Descending on the magical, otherworldly paradise of the Maldives is always a treat (enhanced this trip by the Turkish Airways nose camera). Ibrahim Nassim Airport itself continues to develop and expand. The latest welcome addition is a Wellness spa right at the entrance so you can have one final indulgent treatment before boarding your plane (we had a delay in our domestic transfer and took the opportunity to have some foot massages)
?yi Yolculuklar!
[POSTSCRIPT] If you are in the Maldives relaxation/spa frame of mind, Istanbul airport does offer a few options for that prelude or postlude treatment. Unfortunately, none of them are listed on the airport's directory of "Services"
TAV Airport Hotel has a spa offering massage treatments (opens 8:00 am)

Tuina Spa is located by Gate 215 offering chair back/neck/shoulder massage, foot massage and "aqua massage" all for $2 per minute (make sure you get the older women who are more expert)

Massage Chairs (4) are located by Gate 300 (coin-op)

.