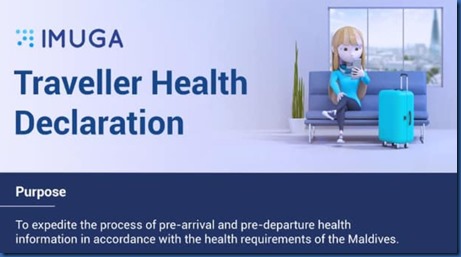 When the pandemic first hit and the lockdowns were imposed, we made an emphatic decision to simply not travel in the year 2020. We were seasoned enough travellers (and savvy enough health professionals both working in the medical arena) that we knew it would be many months before the world had a grip on this grippe. We knew that there would be no switch flipped that turned matters from terrible to fine. Rather, the process would be a long and drawn-out chipping away at the pandemic making life more safe and allowing more activity to go on bit by bit.
We had decided that it would simply be too risky and stressful to travel during the year with all the variables and all the volatility of the situation, not to mention the first and foremost risk, which is contracting the virus itself. We would not do anything that wasn't deemed an acceptable risk, as per our medical training. But within the first 6 months, the world pretty much figured out how to contain the spread (the biggest problem is getting people to behave in a manner which contained the spread) so some possibilities for travel were emerging.

Travel is already a highly regulated environment for safety (just think of the boarding screening process), so the industry is pretty well structured to adopt safety measures. After an accident or terror threat, the aviation industry makes changes pretty effectively and pretty quickly. It has to. So, we felt that they would probably institute protocols that would mitigate most of the risk fairly well.
What we didn't trust was the governments. A government springing a change in rules at the last minute throwing our trip up in the air. And as anticipated, that is exactly what happened. We bit the bullet and booked a trip to the Maldives for mid-November only to have the entire thing upended by England Lockdown II. And not just official pronouncements being sprung on us, but also lower-level functionaries whose job it was to implement them not reading or confusing the fine print in the latest directive and in so doing holding us up at some point for some confusion over paperwork or something.
Still, we persevered got ourselves to our beloved Maldives this week.  Several days in the trip has been magical. Not perfect by any means. But nonetheless magical.
Here are the reasons to consider taking the plunge and escaping to paradise:
Great Deals – The deals are the catalyst. In November, we started reading about some of the deals on offer, and we couldn't help but salivate. Air fares and resort prices were both 30-50% off. With our 8 months of cabin fever, we couldn't resist the temptation.
Flexible Terms – It used to be that to get good prices, you had to commit sizeable sums of non-refundable deposits. Even a minor change in plans would incur big service charges. COVID has changed most of that. Airlines and hotels are now very flexible in their terms so risks of losing your payment are much lower. That said, do check the terms of your travel and if your airline or hotel is not providing flexibility, then look elsewhere. As it happened, this consideration hit us in our planning. We had planned for our trip in November…but then the UK lockdown hit scuppered it. But we were readily refunded all of our booking charges or were able to move them to our revised trip in December.
Aggro in Perspective – Yes, COVID protocols have added extra aggro to the whole process of travelling. The biggest being the PCR "Fit to Fly" certificates, but smaller inconveniences like wearing a mask through the airport and throughout the flight, health declaration forms, etc. While these will seem onerous to the modern casual traveller, they are not really any harder than visas and a vaccination required for typical adventure travel even a few years ago (I remember that I had to hire a consultant to help me get a Russian tourist visa a few decades ago because the process was so convoluted). COVID has just made all travel into "adventure" travel in terms of logistics. Yes, the airport queues are longer dealing with all the protocols and paperwork, but this isn't entirely new to the world of travel. And people are regularly pointing remote thermometers at you. A bit of work, but not unbearable.
COVID Safety – Tourism is the lifeblood of the Maldives so it is no surprise that they have instituted some of the most stringent COVID precautions in the world. As a result, the incidence of COVID in the Maldives is one of the lowest in the world, earning the Maldives a travel corridor with a number of countries, including the UK (which means that you don't have to quarantine on return).
Post-Lockdown Paradise – The Maldives feels like the antithesis of lockdown. Sitting on a beach taking in an infinite horizon is the perfect antidote to months of staring at the same four walls.