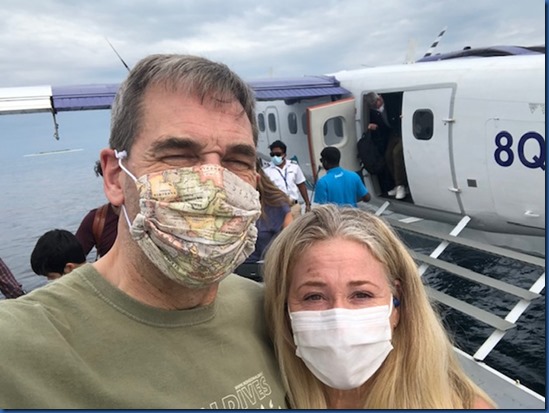 We didn't think we would pull off a research tour in the write-off year of 2020, but as mentioned, when the pandemic settled a bit and travel restrictions eased in the autumn, some compelling offers were available to entice people back onto airplanes and over to far flung destinations that had the virus more under control (like the Maldives). While the trip was indeed a bit more complicated than usual and beset with some inconveniences, they were in no way overwhelming and certainly worth it to be able to escape to some joy and paradise. In fact, the journey just seemed to take us back to a time when the level of difficulty we experienced before Maldives tourism had matured and the digital innovations streamlined so much of the travel process. In the end, most of the added steps and requirements simply added to the safety of travel and stay which provided the benefit of enhanced peace of mind during our visit.
We noted several notable changes in just over a year of absence:
Safety – The measures introduce to protect against COVID are not just numerous but pervasive. Once in country and on the resort, they are more re-assuring than troublesome.
Families – Families everywhere. When I first started the "

Maldives for Families

" vision. One of the things that struck me on our recent mini-tour in December was how family-centric the visitor base had become. I tried to find some stats, but age seems to be tracked only periodically. What I did find showed young visitors (under 24)

growing from 8% in 2011 (

https://webunwto.s3-eu-west-1.amazonaws.com/imported_images/36136/maldives_tourism_performancereport_for_2011.pdf

)

to 10% in 2015

(

https://www.tourism.gov.mv/en/downloads/visitor_survey

). If that segment is growing at 0.5% per year, in

share it would be about 13% now. It does seem also that catering to families is the default now. The list of Adults Only properties is really the exclusive list (only about 20 of these). Then, there is a segment of Family Agnostic resorts which I would estimate to be about a dozen or so. These properties tend to be lower end properties who have few amenities and services in general. They have no problem with kids, but they just haven't made any investments in a kids club or other features that are aimed particularly at kids. So that would be about 30 resorts out of 160 active one that are *not* especially family friendly making a catalogue of family friendly ones about 130 properties long.

WhatsApp – The lion's share of our service was provided by WhatsApp. As soon as you check-in, your "butler" (or whoever else is your point of contact), connects with you on WhatsApp. Every resort worked this way. And it was a revelation. No more calling reception, or looking for the right button on your room phone, or worrying about the time of day. Just send a WhatsApp message to the person looking after you and they respond immediately. It sounds like a simple introduction, and yet it made service provision seem to run that much more easily and slickly.
A final tip is that the Dhiraagu wifi in the departure area is a rip-off. Buying access isn't cheap and the service is horrendous (the app is poor and the connection is weak).
Pandemic Paradise (just kidding!)