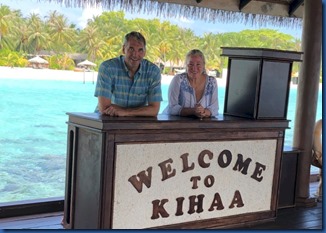 KIHAA is simply one of the best resort *islands* in the Maldives. No wonder people have been flocking to it for decades. I have coveted a visit for years for this classic property. It started as a simple divers' haven, grew into an Italian "Club Vacances" and some refurb a few years ago. But it still retains a classic Maldives resort feel.
KIHAA achieves the rare island trifecta (the closest comparison is Anantara Kihavah):
House Reef – One of the best house reefs we have seen in recent years. CORAL! More than half of the reef was live coral (the "lumpy" coral varieties, eg. massives like favia or prorates, seem to be thriving better than the "branchy" varieties, eg. staghorn, fan, table). Dramatic topology. Easy access. Colourful schools of yellow striped convict tangs, sergeant major fish, Moorish idols. So good, that one of our Amilla dives came over to dive the Kihaa house reef.
Beaches – Big, white, wrap around beach not seen since Kihavah. Flour soft sand especially by the water's edge. An active beach duo is cleaning it constantly. Great for sunset circumambulations. Beach dining every night (partly due to low occupancy).
Lagoon – Millpond calm lagoon with turquoise vistas and easy swimming (which was useful as the property's pools were just being brought back on line after lockdown).
Furthermore, the island scale is pretty much as Goldilocks size – big enough to support good amount of infrastructure but small enough to walk around in under 20 minutes.
A resort like KIHAA demonstrates how difficult it is to pin a star-rating on a property. The island itself is a 5-star deluxe with its exceptional "trifecta" of beach, reef and lagoon. The resort also boasts exceptional sports facilities including two smart tennis courts and two first-rate squash courts as well as finely kitted out gym. The lodging is more the 4-star category with handsome styling (recently spruced up).
The operations are difficult to assess at this time given the COVID situation. After 10 months of mothballing, it is like re-opening a resort with lots of cleaning, maintenance, supplying, etc to get up and running. Like all Maldives resorts, the staff are scrambling to provide the best experience possible for the intrepid and anxious early post-lockdown guests, but they face intractable constraints on availability of personnel (who have to quarantine) and even supplies.
With the resurgent coral and the vintage villas, our visit very much felt like going back in time to our first magical visits to the Maldives years ago.
COVID PROTOCOLS – Take your temperature on arrival, all staff wear masks and sanitising stations are found throughout the island.