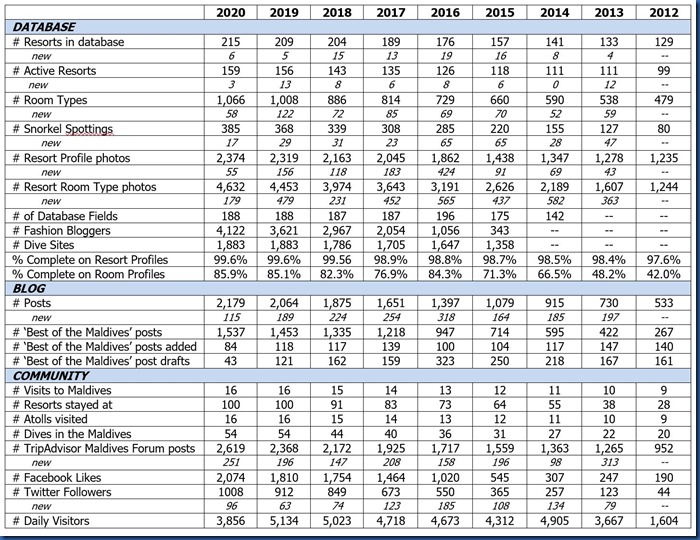 What a year! (not sure which emoji to put with that)
Count our blessings if we are healthy. Unfortunately, the Maldives have taken an especially hard blow on top of the medical blow with their country so economically concentrated on tourism. Maldives Complete has reflected this downturn in many ways. For starters, we couldn't do our annual research trip. That's meant pretty flat numbers (relative to other years) in new material (eg. blog posts, photos, visits). Added resorts, room types, etc. were on hold as openings stalled. And, obviously, traffic has dropped significantly as fewer people are research holidays.
There does seem to be the light of dawn peering over the horizon. The world including the Maldives have gotten sophisticated in preventative protocols which can allow more of life to carry on while minimizing the spread of infection. Testing, sanitising, social distancing, face masking and a range of other techniques are getting the R0 factor down. The arrival so various approved vaccines should provide a major improvement in the pandemic around the world.
Already, I am seeing a noticeable uptick in the past few days (not least of which from the UK who has exited its Lockdown II). In fact, we have arranged a bit of an impromptu to trip to take advantage of some of the great deals out there and burn some of our outstanding holiday time (stay tuned this week…fingers crossed. And the site did hit a few social media milestones in 2020 crossing 2000 Facebook Followers and 1000 Twitter Followers.
Let's hope 2021 brings a smooth (and safe!) return to enjoying paradise (and helping people to do so).