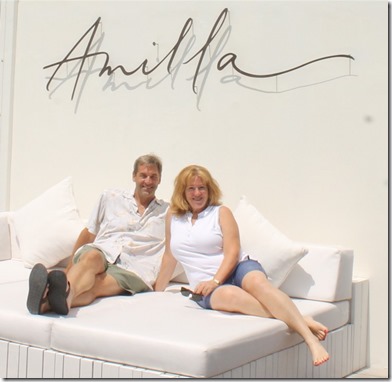 Everything old is new again. Amilla Fushi has taken contemporary to a new level in the Maldives. It features simple lines, open and flowing interior spaces, generous use of light. And like all good modern architecture, it nouveau style is inspired by traditional reference.
The Maldives has become synonymous of late with thatched roof water villas, but actually that motif was imported from Bali. Like all tropical cultures, the locals certainly did use pervasive palm fronds in many constructions, but more recent and more prevailing architecture was based on a truly indigenous masonry. The Maldivians would create their own cement by burning coral and charcoal. The resulting mixture would be formed into white blocks out of which the homes were constructed. The practice is now banned to preserve the precious reefs, but you will find more coral block constructions around the inhabited islands than thatched huts.
It turns out that the very name "Amilla Fushi" means "Island Home". Mind you, the sheer elegance and grandeur of these villas might be more fitting of island royalty. The staff are actually called "Katheebs" which translates to "Island Chief". The implication is that an island chief can do anything. This designation underscores how empowered they are to get things done to satisfy the guest. You will certainly live like a chief during your stay.
While the island has an extensive (and growing) array of distinctive features and offerings, it is also the sister resort of the imaginative Finolhu property in the south of the Baa atoll. As a result, guests are welcome to enjoy all Finolhu also has to offer as well…only a 30 minute speedboat ride away. A number of the "Best of the Maldives" distinctions that I identified on my Finolhu visit are shared by Amilla Fushi as well.