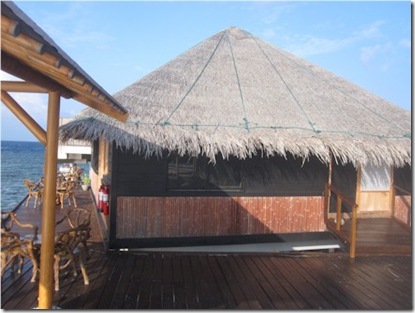 Speaking of old school and Maldives classics, happy anniversary to Vadoo. 23 years ago this month Vadoo opened introducing the very first Maldivian water villas. The owner imported the concept from Bali.  In fact, one of the original villas (see photo above) is preserved as a museum where a variety of cultural artefacts of are displayed (see photo below).
For another glimpse of Maldivian history, check out this fascinating piece, "Maldives: A Place in the Sun" (Thanks @maldives), featured in Eugene, Oregon's Register-Times stepping back in time to 1972 when…
"About once a month a chartered Air Ceylon twin-engine plane flies the 400 miles to the Maldives from Colombo, Ceylon, with cargo, mail and perhaps a passenger or two. The two-hour flight is out for most visitors though, because the Maldivian ambassador in Colombo will, as he put it, "issue a visa only when accommodations are available, and there are no accommodations." Since the plane returns as quickly as unloading and loading can be completed, there wouldn't even be time for sightseeing."
And finally, a special tribute to a global pioneer who made history that affects all of us – Steve Jobs. The world will miss him. For a stirring video piece that many non-Americans won't have seen, check out today's post in my other blog.