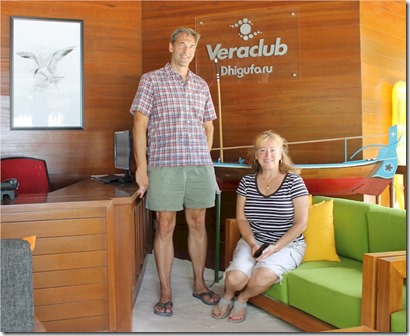 Dhigufaru might just be the island of my dreams.
I often characterise the Maldives this way: "You know that image of a plot of sand with a palm tree on it in the middle of the ocean? That's the Maldives. A thousand of those." Admittedly, that stereotype is really an exaggerated caricature of reality (in fact, its most frequent incarnation is cartoon form). But Dhigufaru comes closer to that meme than any other resort. Maybe not just a single palm tree, but actually no more than a dozen or so mature ones counted.
I am admittedly partial to petite islands, and Dhigufaru is a diminutive one. Just a few minutes walking gets you from one side to the other. Contrary to popular myth, just because the island is tiny doesn't mean that there isn't anything to do. The resort's activity centre is packed with equipment. They were taking advantage of the July breezes doing kite surfing in the expansive lagoon while we were there. It also has a top flight beach volleyball and beach court (permanent padded nets with fixed boundary markers and lighting).
It turns out that Dhigufaru was originally neither an inhabited island nor uninhabited "island". It was just a lonely, white sand bank in the middle of the ocean. As a result, pretty much all of the vegetation has been planted by the resort. Even some of the wildlife was introduced, as the owner's parakeets were homed here and live in bird houses scattered around the islands.
I would summarise Dhigufaru as Birds, Beaches and Brightness.
Birds are the pronounced theme of the property with drawings of various types adorning the rooms and public areas. The very logo of Dhigufaru is the tail feather of a "Dhandifulhudhooni" (ie. "White Tail") which frequents the island and nests there.
Beaches dramatically dominate the island. In fact, one of the Best of the Maldives distinctions that I am investigating is that Dhigufaru might just be the "Beachiest" resort in the Maldives.
Brightness of this unique sand pile shines out at you the minute you arrive. The combination of spacious pearly beaches and minimal towering trees to block the sun means the island radiates with a dazzling brilliance.
Do you believe in love at first sight? I do. I met and proposed to my wife of 32 years after 3 days. I might just have been smitten with similar speed by Dhigufaru. Maybe my tropical lust was simply piqued by this scantily clad plot of sand with her dazzling alabaster beaches exposed so provocatively.