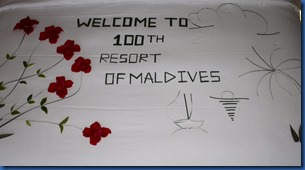 This tour review is not just marking the end of another year's island hopping to do research for the Maldives Complete website, but actually marks a major milestone in our resort adventures. Our visit to LUX* North Male Atoll (LNMA) was the 100th Maldives resort we have visited. As best we can determine, we are the first non-professionals to have visited 100 resorts. LNMA helped us ring in the milestone in style with a lavish bed decoration (above) and a tasty treat (below).
All but 7 were overnight stays (to get the full 24 hours experience and explore a range of activities) which distinguishes us from the local Maldives travel pros who have probably hit a hundred, but with mostly short stop visits. The closest contender my fellow Maldives experts have identified is Michaela Reisner, who runs the a travel agency in Germany. She is at 96, and unfortunately for me will likely be the first to cross the "100 overnight stays" milestone when she tours in October. But, she is also a professional who is getting paid to do her trips so we are looking forward to being the first non-pro to hit 100 overnight stays during next year's Tour.

The links between LUX* and Maldives Complete go deep over this century of visits. In the early days of the website, LUX South Ari Atoll (then "LUX Maldives") was one of the earlier resorts we visited. We were especially embraced by their Resort Manager Dominic Ruhl and the Marketing Director Dolores Semanaro (who became a pioneer in the use of Twitter by Maldives resorts). We had a natural kinship in our appreciation of special touches and guest experience innovations. They were intrigued by this thing I had on the website called "a blog" where I celebrated them. Dominic even asked if I would do LUX's blog, but I was maxed on Maldives Complete and didn't want to introduce even the appearance of bias.
Fast forward to today, our LNMA visit was punctuated by another couple of longstanding friends from the Maldives who represented another of the site's earliest and strongest supporters – Kurumba. Traipsing about, LUX's Executive Chef Henry Jordan shouted out to me to say hello (see photo below). I had first met him when he was starting his culinary career at Kurumba and he remarked that I wrote the very first article about him ("Best of the Maldives: American Breakfasts – Kurumba"). He had gone on to a number of illustrious establishments including his own restaurant in Thailand and earning himself a Michelin star. Moreover, his boss at Kurumba, Dave Minten, is now the Corporate Executive Chef at LUX*. We had the pleasure of being hosted by him at Kurumba and even attended his wedding celebration there. When people ask me "Why do you do it?" (put so much work into the website for no money, in fact big expense), on of the reasons highest on my list is that I get to be a part of this diaspora of Maldives lovers whom I have be-friended over a shared love of paradise.
The resorts seem to be launching faster than we can visit them. Maybe a blow to my fantasies of "Complete-ness", but at least maybe our odyssey in paradise will never end.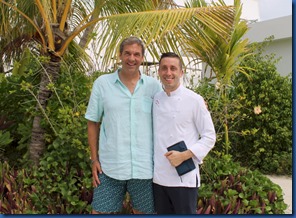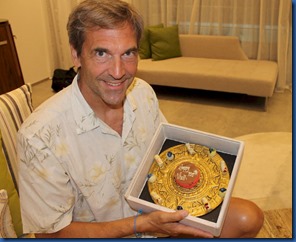 Green stars indicate resorts visited.
Yellow stars indicate resorts not yet ivisted.