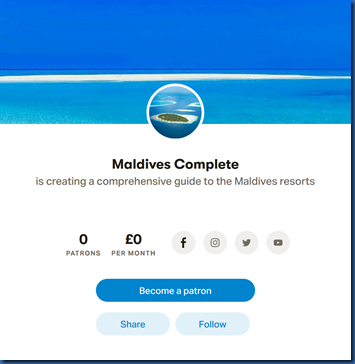 "I don't know how to thank you for all your amazing help in planning our Maldives trip!" Well, from here on you can support the Maldives Complete initiative by becoming a Patreon supporter.
From the launch of the website, I have resisted having any commercial part to Maldives Complete – no ads, no sales, no sponsorship. Not only did I not want the pressures of keeping sponsors happy, but I didn't even want the appearance of any bias. I wanted to cover ALL the resorts (not just a collection of pet ones that had juiced me with payments). And I wanted to provide an objective resource and not just a platform to plug the highest bidders. It was the predominance of such selective shill sites that contributed to me starting the site in the first place.
With the decade-plus history, the site has grown in popularity, scope, content and complexity. This expansion has increased my out-of-pocket costs for hosting and other site support. It has also increased the time required to personally maintain the site and keep the information updated. On top of this, I personally respond to dozens of emails and blog comments every week. Sometimes I have hired local schoolchildren friends to do some of the time-consuming grunt work (or help with household work to free up time for me) which just adds to my out-of-pocket expenses.
What seems to be the conventional approach for such freeware these days is to offer Patreon support. This is simply a digital donation box for people who want to register their appreciation for the material and help ensure its longevity with a more substantive contribution.
People pay premiums on their trips to agents and operators for them to help ensure that their trip is the best. They tip resort staff who work to make sure that their experience is first rate. If I have helped you in a substantial way to make your trip easier and more satisfying (as so many kind comments imply), please consider becoming a supporter. Even a small amount will not only help, but will be an encouraging endorsement for me and my work here.
Thank you for all your past and hopefully continued support.