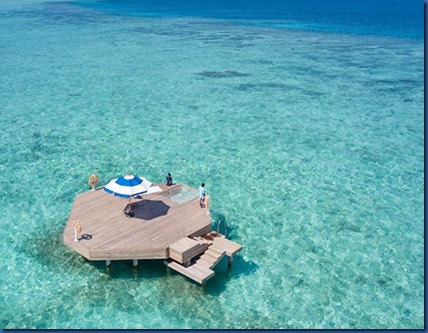 One of the key criteria to a great house reef is accessibility. The intra-atoll drop-of-sand islands typically have house reefs a few metres from shore. You don't have to juggle the logistics of signing up to a resort excursion to take you to some snorkel spot. Instead, you can just dive in and the aquatic wonderland reveals itself to you instantly. It is not just the convenience of proximity, but also a bit of reassurance. Despite the fact that you might be standing metre (on the sand not the coral, please!) in merely a metre of mill pond calm water, there is still something unsettling about swimming hundreds of yards off shore. And snorkeling can take a bit of energy so if you have had a particularly extensive outing, then the last thing you relish is an extended swim back to shore.
The islands that on the outer reef tend to be on broad tables which may make for expansive lagoons, but make for either weak or distant house reefs. Some of the resorts on these islands will typically offer regularly excursions taking people to the edge in a dhoni for an easy splash onto the reef.
Kandima does sit on an outer reef plateau and it has gone a step further to support house reef snorkeling constructing a platform in the lagoon relatively close to the edge. You can use it as a base camp for your house reef expedition. Or just for some middle of the ocean swimming or sun bathing.