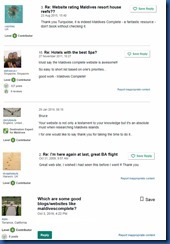 If you wondering whether to lend some support to Maldives Complete through its recently launched Patreon site, have a look at what some of its fans have said to date.
Many websites of creative works feature "Review" sections to provide testimonials and endorsements. I figured this post could serve that purpose.
INDUSTRY REVIEWS:
"There is a blog around Maldives.. and for me it is THE blog that I MUST follow and regularly check…No doubt about!!…When I look for something that I need to know about a specific resort but don't find it around.. and even not in its own webpage.. the answer or at least a clue to get the answer is always here." – Paola Mattana Lamperti
"Maldives Complete is arguably the best reference site for the Maldives. Bruce is a Maldives enthusiast and completes this with no commercial interests. He prides himself on integrity and recognises the positives and differences in all Maldives resorts and that not one resort is right for all guests. I highly recommend Maldives Complete." – Jason Kruse General Manager Amilla
"The Maldives Complete site is one of the best 'go to' places for information about the Maldives." – Katherine Anthony, Marketing Manager, Hideaway Beach Resort & Spa, former TripAdvisor Maldives Destination Expert
"You have picked up on some amazing parts or USP's there and this will help me immensely in the sales process as we also talk lots about hidden 'rabbit holes' and the small amazing nuances that we offer against the competition." – Scott Le Roi, Director of Sales & Marketing, Reethi Rah.
"One of the best bloggers of the Maldives." – Dolores Semeraro, Marketing Director, LUX Maldives
"I highly recommend that anyone who is planning a trip to the Maldives use the Maldives Complete search before booking a hotel." – Chic Family Travels
"If you are wondering how I researched the 3 criteria for choosing the best luxury hotel in the Maldives, it was rather simple. I found a Maldives blog that has a search feature that allows you to plug in your criteria to find the your best match! I highly recommend that anyone who is planning a trip to the Maldives use the Maldives Complete search before booking a hotel".—Chic Family Traveller
"It is wonderful that you put together a truly complete basis for comparison between Maldivian resorts. THANK YOU!" – Francisco Negrin, Barcelona
"Lovely to read all the 'Best of the Maldives' posts on you page…quite interesting….keep posting…" – Aminath Huda, former Europe rep for MTPB
"Maldives specialist, out of the box thinker and prolific writer on the non-mundane and oft missed subjects about Maldivian resorts." – Amit Majumbder, Manager, Jumeirah Vittaveli
"Your articles are fantastic. Really helpful , nicely done." – Ahmed "Jay" Jihad, Head of Operations, Huvafenfushi
"Dolores and Dominik mentioned you and what you have done. Extraordinary." – Shaun Dünhofen, General Manager, LUX* Maldives
"Your blog is fascinating. You are truly an expert on the Maldives…Your site is a great resource." – Steve Dobson, Unusual Hotels of the World
"If you want to know what's the "best" in Maldives – the 'Best of…' every imaginable topic, read this blog by Maldives Complete, you won't feel bored!" – Oceanholic Maldives
TOP BLOG COMMENTS
"Absolutely amazing work you have here! Many thanks for sharing your knowledge and time. You're definitely a top Maldives expert and I hope the country appreciates all you're doing for that bit of Paradise. I've spent a few hours going thru your site, including blog posts, comments sections and the filter page. It's great and miles ahead of anything we can find elsewhere. We've used your filter and I appreciate your database has most of the information needed to short list a few…Your help and dedication is second to none. Maldives is really complex for newbies, considering all the variables! I'm valuing your work more and more each minute I spend researching."
"I was struggling through the choices of resorts once we decided to go to Maldives, then I stumble across your website. I wouldn't even attempt to guess the amount of time and energy gone into develop the database and make it available for the benefit of all. This is absolutely amazing! Thank you for your time and passion." – Deb Pandit
"Thanks for this great site" – Eby
"First, thank you for the comprehensive Maldives analysis on your site, it has been very helpful!" – Daniel
"Thanks for this great blog." – Shubhod
"First, thank you for putting together such a website. The information available is second to none." – Warren
"Bruce, thank you very much for this very useful & informative blog." – Brenda
"I love your website!!" – Dee
"Thanks so much for all of your helpful information." – Lu
"Your blog is so informative & helpful." – Jimmy Adam
"Thanks for an excellent site! Really informative." – Sonja
"Thank you so much for all the information!" – Corina Garcia
"Bruce: We love and deeply appreciate the helpfulness website u put together." – Wayne Lin
"We just happened upon your blog and have learned so much already!" – Betty
"Thanks so much for sharing your experiences! I found your blog on Tripadvisor and I am reading everything, it's amazing!" – Valeria
"First of all thanks a lot for the blog and sharing your knowledge and insight here,this is indeed helpful." – Saumit Deshmukh
"First I would like to thank you for providing such informative website on Maldives." – Anita
"Hi Bruce, I wish I had come across your site sooner." – Faheem Khan
"Your info is amazing. I have been researching the Maldives for weeks now and this helps so much." – Kyle
"Your info is absolutely amazing and vast." – Mohit
"Really loving this blog and all the help you give everyone on the Tripadvisor forums." – Suhani
"Came across your website and its super helpful, thanks so much for sharing your experiences." – Imran
"Many thanks for running this site, such a brilliant resource." – David
"Thanks for this great website!" – Naz
"Absolutely love your blog! – Anu Godara
"Loved your website and thank you for something so comprehensive!" – Janvi
"Hi, thanks for the guide! What a great website with so much of info!" – Rohit
"Hey Bruce, just wanted to start with saying really appreciate the website, it's definitely the most helpful Maldives resource I've found!" – Helen Woodhouse
"Love the website and the obvious effort you have put into it." – Andrew Carter
"Came across your fantastic web site as we are looking for a resort with great house reef." – Mattias"We are now on our 17th trip to Maldives.We have been waiting for 10 years for this website…Spot on." Jeb Payce, UK
"Your website has truly been my bible, gold standard reference … since I started my research on looking for my perfect resort." – Archie Mok, USA
"LOVE your blog. It's definitely the best." – Susie

"I've been making extensive use of your website which has been an amazing help, thanks for your efforts there. It really is one of a kind." – JCHBScouser.