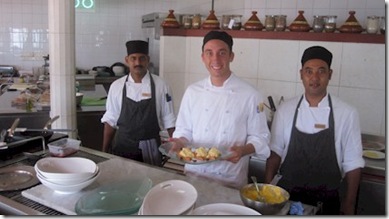 If you want something a bit more substantial than OJ to start your day, then there is not much more substantial than an 'American' breakfast. Yes, the 'British fry up' is a noble effort with its variety and grease content, but most 'full English' would rank as a 'bit of a starter' for an American morning meal. In fact, Americans had to invent their own term 'brunch' to describe a meal so big it's two meals in one.
And if you want the 'American Breakfast' experience, then the closest I have found in the Maldives is Kurumba's spread…
Blueberry Pancakes…with blueberry syrup! IHOP staple (putting the 'International' into the 'IHOP'). Lots of resorts have pancakes, but blueberry is the true classic. W had delicious Blueberry Waffles, but not served with the blueberry syrup.
Fruit Loops. Junky, high sugar, 'kids bouncing off the walls' with a cartoon character on the box. That's American breakfast cereal. Fruit Loops is an old-school classic and I can't even get those in the UK
Fresh cooked 'proper' doughnuts. A lot of resorts provide 'donuts', but few get it right. Most are stodgy, doughy, heavy and not even that sweet. These were freshly made at the resort because Lori and I smelled them cooking.
American chef. Perhaps one secret to Kurumba's Yankee delicacies is their staff chef Henry Jordan from Narragansett, Rhode Island (see centre of photo above) who provides a real authentic expertise.