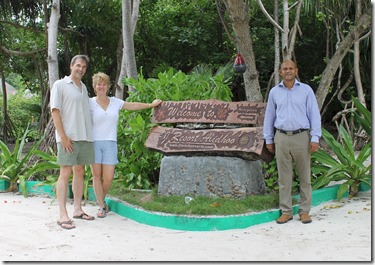 After last year's visit to the Maldives' southernmost (big) atoll, Gaafu Alifu / Gaafu Dhaalu (Addoo aka Seenu is further south, across the Equator even, but it is quite small), this year we're first off to the other extreme to its northernmost big atoll Haa Alifu. Hanimadhoo (an island which has a small runway for prop-planes) is so far up north, it is just one hour's plane ride from India. After this tour, we will have visited 63 resorts in total and we will have literally visited Maldives top to bottom.
I am looking forward to this tour with a bit extra anticipation simply because many of the resorts in this area are really less well known. They are less talked about on TripAdvisor. For example, our first resort J Resort Alidhoo has 2 reviews and 15 TA Maldives Forum mentions (versus 1,267 and 2,497 respectively for a popular favourite like Kurumba). So the basic research side of the trip should be most helpful.
Our first stop was the very little known J Resort Alidhoo as it has mostly catered to the Chinese market in recent years. But there are some aspects to the resort that could appeal very strongly to the European market. The resort is in transition at the moment, but that means a chance to pick up a real deal. Everyone is looking for a modestly priced island. Especially, if they want to bring the family which ratchets up the bill even more. The Alidhoo rooms are big and well appointed. They are very reminiscent in scale and layout to W Retreat (in fact the same designer worked on both) but with simpler, more modest finishes. On top of the faded cosmetic wear, some of the infrastructure needs a revamp and the resort is even having some operational issues (eg. the bar was not well stocked). 
But if you can look past these foibles, then you have a delightful gem of a Maldivian island with an accessible housereef, in an relatively off-the-beaten track atoll, with commodious accommodation for less than a cheap hotel and a Spaghetti House meal in London. Their current off-season Full Board rate is $208 per night for the Beach Villa and an astonishing $308 per night for the water villa. And the resort is happy to add extra beds to add up to three children.
The meals are classic fresh reef fish and fresh tropical fruit. How bad can it be? And, the main restaurant looks over the expansive infinity pool which looks over the ocean. It produces an inviting raked amphitheater effect focusing on the star attraction – Maldives azure vista.
We always say that you could stay in a cardboard box on a Maldivian island and it would still be one of the most thrilling and sumptuous holidays of your life. J Resort Alidhoo is far from perfect, and it has plans in the works for a revamp.  In the meantime, it offers so much for its incredibly modest price. A real bargain opportunity for the patient and forgiving.