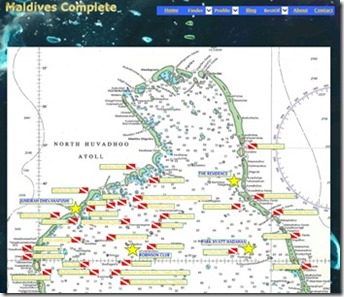 Announcing the Dive Sites database and *Complete* interactive guide.
When I first started Maldives Complete, it seemed like the only information available on the Maldives was for divers and honeymooners. As a result, I veered away from those topics and focused on less catered for subjects like families as well as unusual activities and offerings. I am obsessed with snorkelling and this has brought be closer to the diving domain. Increasingly, however, I am receiving more and more diving enquiries and am finding it hard and harder to find comprehensive diving information in structured, interactive resources.
The primary source for dive site information has been the hard-copy books which are extremely well done. But they add a fair bit of weight to the baggage and aren't the easiest to navigate. As with the proliferating resorts, one of the biggest problems is being spoiled for choice. There are 100+ active resorts, but there are 10 times that number of dive sites (at least).
The main sources of research have been the following in particular (and the featured dive charts are kindly used with permission and the source is linked to in the profiles)…
And after several months of research and coding (with big help from my ace assistants Emma Barnes and Grace Bolton), I have now scratched surface with a credible v.1 database with over 500 dive sites. Specifically, the new section includes…
Number of Atolls covered – 18

Number of Dive Sites – 552

Number of Dive Charts – 243
Here is the number of dive sites included by Atoll…
Baa 31

Dhaalu 5

Faafu 53

Gaafu Alifu – Dhaalu 34

Haa Alifu 33

Laamu 14

Lhaviyani 22

Meemu 54

Noonu 31

North Ari 55

North Male 89

Raa 3

Seenu 16

South Ari 44

South Male 45

Thaa 1

Vaavu 22
The exercise has also surfaced some other interested statistical tidbits about the Maldives dive sites (at least the sample set I have at hand)…
Resort with Most Dive Sites Nearest:

Filitheyo

– 53. This stat is primarily down to the (a) great information from Werner Lau who operates out of Filitheyo, and (b) the fact that Filitheyo is the only resort in the entire Faafu atoll so it pretty much has the atoll to itself.

Most Common Dive Site Name : "Kuda Giri" – 6. You will see that sometimes I parenthetically appended the atoll name to the dive site name. This was done to make the site name unique since multiple dive sites used the same name.
Most Common First name: "Bodu" – 13.
Common Type (eg. "Thila", "Kandu", "Corner"): "Thila" – 112.
Longest Name: "

Kanandhou Kaleyge Galha

" – 23 letters.
Right now the profiles are quite basic. They include…
Dive chart (where available)

Atoll

Nearest resort

Alternative name(s)

Features (eg. cave, wreck, creatures)
All of the material is far from perfect.
Polish – Not all of the graphics are perfectly aligned/sized/etc. Some people look down their noses at Maldives Complete's rough hewn design. It stands in stark contrast to the slick (and all too often useless) websites of many resorts. I've resisted exhortations to "polish" the site with a glossy look and feel. I have neither the money nor the graphics ability to do so really. Furthermore, I have bit of aesthetic preference for the simpler layout and style. I prefer to think of it as "artisinal". J
Precision – I toiled for a long time at the outset about the degree of granularity to have in the interactive map. Zoom in and you can't get a sense of everything at an easy glance. Zoom out and you can't get precision or a sense of the surrounding area. I think I got the balance right in the end, but if anything I ended up sacrificing precise placement of dive flags for ease of at-a-glance navigation. You can drill into very close-up looks at the dive areas and their topology using the

British Admiralty map DeepZoom feature

of the site.

Completeness – Help me! My aspiration is *complete* and I am aware that I have rippled the surface of dive sites and information about them. If you would like me to add a dive site or materials about one already included, please

contact me

.
I may extend the profiles to more information if (a) there is demand from website visitors, and (b) there is help from local resources to supply the information.
Which brings me to the final points. I have a number of principles that guided the development of Maldives Complete, and those have led me to not just adding dive site information, but *how* I added it…
UNIQUE – First principle of Maldives Complete is to only add data and functionality you can't get elsewhere. I follow Seth Godin's marketing precept, 'Don't be the best one, be the only one.' If someone else has the information or material, then best just to point to that rather than add a "me too" capability (and the profiles point directly the top dive resources on the web to help people find more detail about those dive sites at the web sites that focus in on them).
The interface for the material is a uniquely interactive map of every atoll. The other dive maps (eg. MondoMaldive, Maldives.at, Werner Lau) don't cover ALL the atolls. They cover about a half dozen atolls. Maldives COMPLETE has 18 of the 22 main atolls (and I will be doing research to get dive site locations for the other 4 over the next few months).
Also, the existing dive site maps use a numbering key which means that you have to reference the name at the bottom which is all a bit cumbersome.
I've also based the catalogue on the British Admiralty Maps which provide comprehensive topological information and a range of depth measurements. All of the other maps are a simplified atoll layout just showing the islands. The maps also have the added advantage of being consistent with the longstanding Maldives Complete feature of the "Deep Zoom" map which allows people to examine certain areas with great clarity and detail.
UTILITY – For everything I add to the website I ask, "Is it useful?" As a result, I didn't add a number of pieces to the Dive Site information that I could have. For example, I have passed on…
Pictures – Some dive site guides have pictures taken from the sites. But frankly, they are all close-ups of various fish and features that could be anywhere.
Depths – Frankly, the vast majority of the Maldives dive sites are all between 5-10 meters going down to around 20 meters. It didn't seem worth the effort to catalogue the minor variations and few exceptions. Star rating

Ratings – These vary but include overall quality of dive, sometimes a special rating for snorkeling, or sometimes a difficulty rating.

Visibility
Descriptions
Accessibility
USER-SUPPORTED – The best part about Maldives Complete is the extensive support I get from fans around the world you appreciate it and help plug gaps in data and information. A good chunk of my "Best of the Maldives" features are nominated by readers and most of the few percent of pictures I am missed are supplied by guest. I am hoping that dive centres, marine biologists and supportive guests will help me build the catalogue especially with the addition of dive charts.
(I guess one could say that it's all about yoU !)