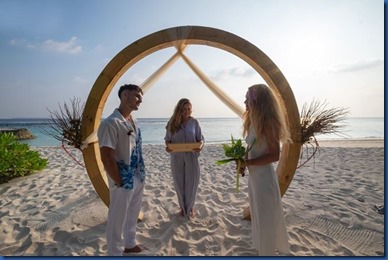 If your Valentine proposal on the deserted island was a success, then the next step is to plan the big day. No need for expensive wedding planners with their own concepts as you can create the wedding of your dreams at Amilla Maldives with their DIY wedding offering:
"The traditional wedding vows have been rescripted to work with only the couple taking turns to speak, and a permanent wedding arch has been created on the beach, complete with a phone stand, in case the couple wishes to record or live stream the special occasion. The wedding vows are also there for the couple to refer to. They have been carved into wooden panels. In case a few guests are in attendance, six wooden benches have been placed on the beach too… The concept was conceived in response to a growing number of requests from guests at Amilla Maldives Resort and Residences for boutique weddings with no guests or only a handful of guests in attendance. This trend is part of a broader global trend for small destination weddings in privacy."
My sister Sharyl is an interior designer who has pioneered the DIY concept in her field. Instead of coming in and necessarily spelling out the entire design (which some people do prefer), she provides the option to be their "design coach" and guide clients through the design process themselves. I especially liked this concept as we redid our house years ago and got frustrated by designers dictating their ideas and us clients having less hands on to molding this expression of ourselves.
Make your own special day truly your own.