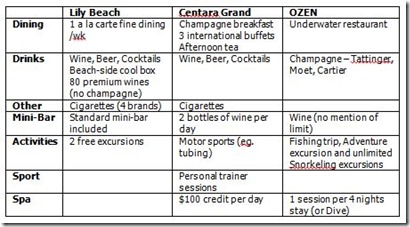 In the traditional travel market, the term "all inclusive" often connotes a bit of a down market, budget holiday with white-label booze and tired buffets. I often get enquiries that are concerned about the quality of a resort because it has all-inclusive offer. As with so many aspects of luxury, the Maldives destination re-writes the conventional wisdom and the "AI" package is in many cases a cornucopia of luxury.
All-inclusive got its reputation catering to budget travellers who had saved up precisely a certain amount for their vacation and not a penny more. They couldn't chance facing some big check-out bill of extra charges and still hope to pay the rent the next month. To some degree, the same dynamic takes place in the Maldives…but at an entirely elevated level. For many, a trip to the Maldives is a trip of a lifetime. Celebrating a special occasion like a honeymoon or anniversary or milestone, people splash out their life savings for this bucket list adventure. Despite spending thousands, they too want some bounds on just how much the trip will set them back. So a number of the finest resorts offer AI packages to help plan and contain their expenditure.
And it's not just about financial planning. It's also a handy convenience. Write your cheque and then don't worry about prices or money or signing things at all for your entire holiday. Just let the resort pamper you with all they have on offer.
What is on offer is becoming a bit of an escalating arms race in its own right. When I visited the World Travel Market in London this year, I go around to the resorts exhibiting and ask about their distinctive features and offers. Two properties – Centara Grand and OZEN – claimed to have the "most luxurious" AI package in all the Maldives. And that's no small claim given some of the extravagant packages on offer including a previous Best of the Maldives post on Lily Beach as well as an impressive rival I uncovered at Kandolhu this summer.
As the various inclusions are a bit of an apple-to-orange comparison, I've decided to assemble the summary table above to let you all figure out which opulent omneity best suits your tastes. I haven't included the pretty standard stuff that many if not most resorts provide FOC to all guests like snorkelling equipment, wifi and use of non-motorised sports facilities.
I've also now added the Tag "All Inclusive" to track all of the best AI offers.