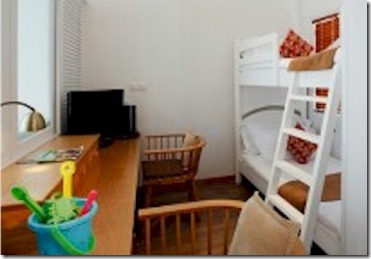 When we were growing up, we used to ask my parents, "There is a Fathers Day and a Mothers Day, but when is Children's Day??" My parents always used to answer (disappointingly to us), "Every day is Childrens Day." Well, there is finally a Childrens Day today. Universal Children's Day, established to promote the welfare and well being of children around the world.
When I first started Maldives Complete, my very first inspiration was children. In the nineties, Maldives was known for (a) honeymooning, and (b) diving. But when we visited, we found it a great destination for children.
While the Maldives in general is great for children, one increasingly popular feature has become a bit of a child-challenged ghetto…water villas. The obvious reason is safety. The jetties are typically flat walkways which the occasional stumble can send adults (or even bikes and buggies) over the edge into the water below. There have been rumors, often cited by resorts where children are not allowed in water villas, that it is against Maldivian regulations to allow them, but that is not actually the case.
Given that today is International Children's Day promoting the welfare of children, understanding the ins and outs of children in the water villas is an important subject.
The water villas are typically located in calm lagoon shallows so a rescue is pretty straightforward. As with bringing a child to a locale surrounded by water, however tranquil that water may be, vigilant attention to the child is always paramount anyway. And many parents are willing to pay the price of this extra diligence and supervision for the benefit of enjoying the distinctive water villa experience as a family.
Every resort is different when it comes to child policies in the water villas. I have been trying to capture most of the various policies in the Room Type Profiles. But the resort which seems to have to mot child-friendly approach is Centara Grand according to TripAdvisor's Maldives Travel Article "Maldives: Children in the Maldives"…
"Reputed to have the most family friendly villas in the Maldives and also the only resort which allows children in the Over Water Villas (OWV) without the need to sign a disclaimer first, Centara is a popular family choice. The pool is also a major draw."
TripAdvisor Destination Expert Nefertari2 elaborates…
"The Family Water Villa's on Centara are children friendly. They have a railing, with vertical slats all the way around the decking which is at least a metre high and there is a gate which you can lock at the top of the stairs which leads to steps down into the lagoon. There is also a gate at the entrance of the Water Villa which is lockable to prevent the children from running straight onto the jetty as lets face it the robes won't stop them falling. They are the most child friendly water villa's I have seen in the Maldives."