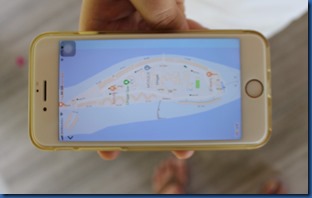 One of the most innovative features I've come across in 2019 is Dhigali's Resort App. The resort describes:
"We are very excited to announce the new Dhigali App (An application which can be downloaded to your mobile or Ipad from the app store, using a QR code . The App allows our guests to find information about our resort including our fact Sheet, resort map, daily activities, SPA, and dining options."
Sort of a pocket concierge. I've already showcased the brilliant "Buggy Tracker" function which integrates with screens scattered around the island if you don't have your device with you.