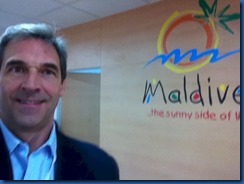 I have decided to offer my expertise up to resorts who would like input and consulting on their customer experience. I've had just too many "what were they thinking??" moments. I'm not talking about petty kibitzing like you find on TripAdvisor reviews. Anyone following this blog know how charitable a fanboy I am of all Maldives resorts.
I just see so many examples of how a resort is set up or run that just don't seem to have paid enough consideration to the guest experience. And when I say "guest experience", I am specifically referring to the "Maldives guest experience" which is a very distinct category. People coming to the Maldives have some very specific expectations which are central to their ultimate satisfaction.
Too often is seems that the bean counters or some designer/architect in love with their sketches are calling the shots. I sort of do a casual version of this consultancy on my tours as I find myself the guest of many dinners and drinks with GMs and Marketing Directors eagerly picking my brain for insights and perspectives. I can understand the compromises in the lower price tiers, but all too often I do find myself see very simple tricks that were missed.
Benefits
Customer Experience – I think that getting one of the world's experts on Maldives resorts to have a basic review of your plans to catch details that might have gotten missed would be a worthwhile step for many resorts that clearly invest so much money into their premier properties. Sometimes simple considerations can undermine the impact of thousands of dollars of investment in a simple feature.
Save Money – An oversight in design costs both revenue and operating expense. Revenue as the reviews come in that little bit less enthralled leading to even a few on-the-fence prospective guests choosing one of the many other competing options in the Maldives. Operating Expense as the property eventually figures out the problem and decides to redo the aspect costing money to remove and replace.
Credentials
Sales and Marketing Career – This whole Maldives differentiation is not just an expensive hobby for me, but the "differentiation" part of central to my day job. I've successfully driven sales and marketing for a billion dollar business unit, received recognition from Her Majesty Queen Elizabeth II for business promotion, and received the American Association of Travel Agent's Award for the most successful destination promotional campaign.
Maldives Resort Expertise – But my real credential in the area of Maldives resort customer experience is…my customer experience. Two decades of researching and visiting more resorts than anyone else on the planet (the first person to stay at 100 Maldives resorts). I may not have seen it all, but when it comes to the Maldives resorts, there are few people who have seen more than me.
Testimonials
"You have picked up on some amazing parts or USP's there and this will help me immensely in the sales process as we also talk lots about hidden 'rabbit holes' and the small amazing nuances that we offer against the competition." – Scott Le Roi, Director of Sales & Marketing, Reethi Rah.
"Maldives specialist, out of the box thinker and prolific writer on the non-mundane and oft missed subjects about Maldivian resorts." – Amit Majumbder, Manager, Jumeirah Vittaveli
"If you want to know what's the "best" in Maldives – the 'Best of…' every imaginable topic, read this blog by Maldives Complete, you won't feel bored! " – Oceanholic Maldives
Drop me a line at maldives@maldivescomplete.com if you would like to have a quick chat about how I might be able to assist. It will cost less than you think and benefit your project more than you might realise.