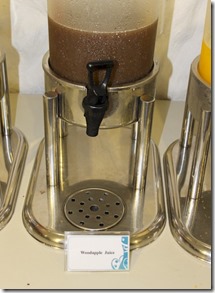 Over the 10 days of Tour #5, I did uncover 143 new Best of the Maldives candidates, and over the next couple of weeks, I will be sharing the first of these for each resort visited in the order of the tour. These selections are not necessarily the most stunning or dramatic, but just ones I picked out that I was especially fond of. The others will be posted over the coming months.
The first island up was Chaaya Island…Chaaya Island Dhonveli. After 55 resorts, I'm always a bit surprised to see something I've never seen before. Living in a culinary capital of the world (London) and travelling extensively, I especially surprised to find something on a menu I haven't seen or tried before. Well, at breakfast at Dhonveli, the array of exotic fruit juices included a something I not only hadn't tried, I hadn't even heard of it – Wood Apple.
"Wood apple" is one of the most apt names for a fruit since "Orange". It looks like an apple…encased in wood. In fact, you have to whack it with a spoon to crack the hard exterior. It comes from Sri Lanka, but can be found in the Maldives.
The juice isn't your typical reddish or orangey colour of most fruit juices, but a rather earthy brown. And not in a golden "apple juice" kind of way. Imagine the pulpiest, mocha-est apple juice. Supposedly extremely good for digestion.
Dhonveli will serve you wood apple on its own (see below), but it is VERY tart (much like rhubarb). So it is typically served with honey or sugar on top.