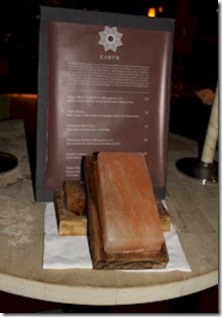 Maldives resorts are full of surprises. Like getting a taste of the highest place on the planet served to you at the world's flattest place.
One & Only Reethi Rah offers up an epicurean feast of food and drink superlatives which will fill the "Best of the Maldives" plate for months to come. One that captured our imagination was their salt stone cooking. They heat up a block of salt stone from the Himalayas to 400 degrees on which you cook your food at your table. The salt in the stone gently leeches into the food in the process for a very subtle seasoning.
They also have bowls made out of the salt stone (see below) for serving other dishes. This particular salt crystal from this area of the world is pink. I had never realised that salt came in so many colours. I had visited the famous Wieliczka salt mines in Krakow and their salt crystal was blue.
Reethi Rah cooking rocks!