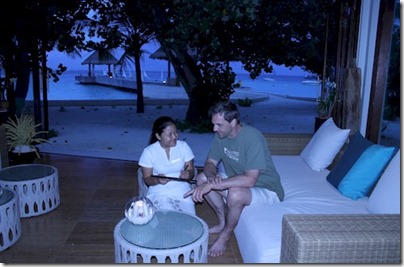 I've gotten ahead of myself a bit with the posts on Ellaidhoo's and Kurumba's snorkel aids in my post-tour posts (given their tie into the "not seen" series), but now time to share a few of the gems from the tour. Over the next fortnight, I will share a "Best of the Maldives" post gleaned from "Tour 4" in order of the resorts toured. They aren't necessarily the biggest or "best" of the "best ofs". Just some that particularly captured my appreciation and fancy.
Not only was our first resort of the tour Jumeirah Vittaveli, but our very first activity was a massage at their spa. A thoughtful remedy to 10 hours in economy class.
I've enjoyed hundreds of spa treatments in both the Maldives and the around the world. One of my pet peeves is when the therapist asks you if you want them to focus on any particular are..and then doesn't focus there. I often am fine on my back (which is the masseuse's favourite body part) and prefer more time spent on limbs (legs, arms, feet) or upper body (chest, shoulders, neck). Too many times when I provide this guidance, the person seems to disregard it completely and carry on in autopilot with some preprogramed routine.
The first sign that Vittaveli's Talise spa offered something different was the lack of a treatment menu. They sat you down and had you fill out a questionnaire. This step is not so different from standard operating procedure in many spa, but the primary focus is just usually about getting you to sign a disclaimer and declare any medical issues. But Vittaveli's approach was quite different. First, the questionnaire went into a bit more depth than usual. And rather than the cursory glance by the therapist, so did the review of the form. And actually, it was more of an interview than a review. The spa manager, Sova, sat down with Lori and I and crafted a unique treatment concoction based on my preferences. For me it was an oriental massage combined with Thai stretch elements for the limbs. For Lori it was a Balinese massage for lower body and Swedish for upper.
My wife who is a therapist (speech and language) herself remarked that their approach was a classic example of a "Person Centric Care Plan". This technique is a big thing in health care these days according to Lori and is the basis for all of her work at the UK Epilepsy Society.
But the proof of the massage is in the rubbing. Would the therapists execute the plan or was it all just a preamble of palaver? Our two therapists, Kanlayanee and Taksana, did exactly the detailed requirements both my wife and I specified. Taksana working on me hardly touched by back (as requested) and spent lots of time of my shoulders which were tight from the plane journey. Kanlayane spent more time on Lori's chronically troublesome neck than she has ever had with hugely therapeutic results.
For all of the fads and trends that hit spas these days, it was inspiring to see Vittaveli embracing the latest thinking from the health care field rather than the cosmetic or pop-spirituality fields.