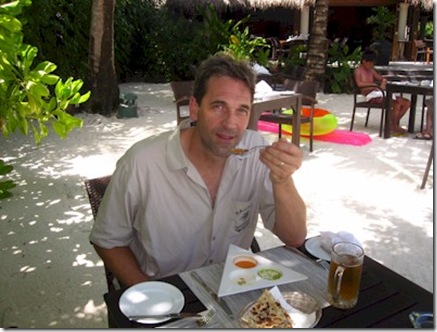 In honour of Italy's National 'Republic Day' holiday today, I pay tribute to the finest execution of one of my favourite Italian treats – Gazpacho.
Probably because it is a refreshing cold soup, it is served at every resort that I have been to. I happen to be a soup lover and gazpacho is right up their at the top of my list of favourite styles. I shy away from awarding 'Best Of' distinctions on food because (a) there is so much fine cuisine in the Maldives now that it seems unfair to do so without sampling everything, and (b) a supremely well done dish is hard to distinguish from another supremely well done dish.
I break the protocol through for Sheraton Full Moon's 'Trio of Gazpacho' at its Sand Coast restaurant. Most of all, it is not just one gazpacho, but three gazpacho treats. The first is a delightful traditional recipe. The second is made from green tomatoes (after years of visiting the American South it is encouraging to learn that there is something you can do with green tomatoes besides fry them…the South's answer to everything culinary). The third was an almond base with grapes and apples.
It wasn't just the stand out execution that struck me. The whole 'gazpacho experience' was excellent. Sand Coast is set in a grove of coconut trees on the sand by the water. This set up is certainly not unique in the Maldives (we ate almost everyone of our Coco Palm Dhuni Kolu meals in a restaurant they had like this), but we are always surprised how hard it is to get toes-in-the-sand-water's-edge eating in the Maldives. The restaurant played soothing ambient music with a local twist. And the price was very reasonable and less than what you would pay for a similar dish in a London establishment (it also spoils the appetite a bit looking at stupid prices in menus especially at the higher end resorts).
Kudos to Chef Garth Welsh (see below) who has really set up an operation of lots of gustatory delights at Sheraton Full Moon.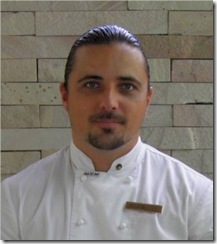 Chef Garth Welsh