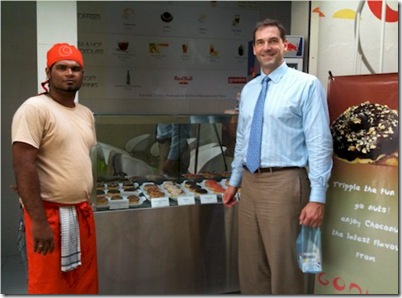 When I came upon the Haveeru Online piece on 'Gonuts' ("International doughnuts cafe chain opens in Maldives") I nearly fainted with anticipation. Okay, it wasn't Krispy Kreme. But doughnuts and the Maldives. It's like ambrosia and paradise mixed into one indolent concoction. So on my recent trip, I had to make a special detour to check out Gonuts. Despite my discerning palette for all things doughy and fried, I was beside myself when I got to experience them.
First, they were good. I had the 'Chocolate Profiterole'. It appeared to be made fresh as I waited. The filling was particularly 'creamy' as opposed to the more gelatinous custard of conventional donuts.
Second, they were appropriately exotic. Flavours offer took the doughnut repertoire to whole new dimensions. 'Spicy Tuna' and 'Sambalicious' (with chilli pepper) were too adventurous for me even.
Finally, the dining area was a masterstroke. One of my pet peeves with resorts is when they pave over too many dining areas and don't have enough 'toes in the white sand' places to eat. And yet, here in the heart of downtown Male, Gonuts' own dining area was laid out with white sand for people to enjoy their delicacy in a delightful cafe setting.
So why do I credit the Holiday Inn Male with this 'Best of Maldives' distinction? Well, Gonuts has a take-away service! Which means that guest at the Holiday Inn (a few blocks down the road) can ring up for a few concoctions to enjoy with their mocktail by the roof side pool.