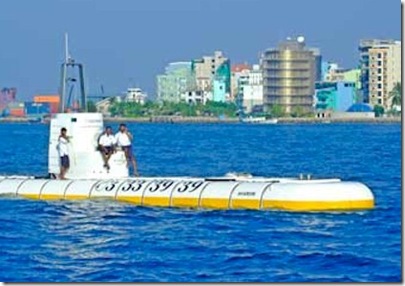 If you fancy an under-the-sea exploration or just a fun adventure to fill out a Male excursion, consider booking a trip on the Whale Submarine. Okay, it's not a particular feature of Traders Hotel per se, but Traders is both the closest (one block away departing from Jetty 1) and the most tourist ready hotel in Male.
Its web site describes the vessel…
"If you have never been on a submarine this is your chance to go and dive in one of the most advanced passenger submarines in the world…This is your chance, whether you are young or old, able or disable, to visit the underwater world without getting wet, while enjoying the sensation of diving in a submarine…Whale Submarine is designed and constructed in Karlsrhue, Germany under the strict regulations of the American Bureau of Shipping and Bureau Veritas and is capable of carrying 50 passengers to a dive depth of 150 meters. Whale submarine is currently the world's deep diving largest tourist submarine in existence. So far this submarine has performed more than 2000 dives safely. The cabin of the submarine is fully air-conditioned and has a normal atmospheric pressure and thus you breath normal air. Therefore you are safe to fly just after a dive. Whale Submarine has redundant safety features to ensure the safest, most comfortable ride, and is operated by a fully trained and certified team of French and local pilots. Whale Submarine carries enough oxygen, water and food supplies to support all passengers and crew for 100 hours."
Dive, captain, dive!