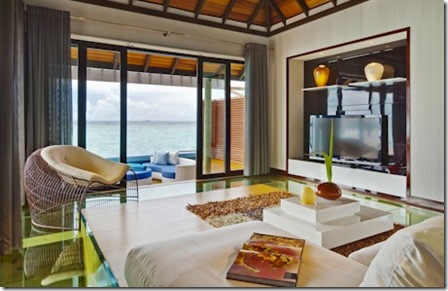 For those with weaker sea legs, you don't have to go on the high seas or undersea to have a window to Maldivian marine life.
In fact, just this week the topic of glass floors came up on the Trip Advisor Forum. A couple of posters dismissed them as just gimmicks. But I actually applaud them. They are fun in their own right to see sea life from your very room. The whole allure of the Maldives is the gorgeous ocean and it seems a shame to 'leave it' when you close your villa door coming inside for the night or some other reason during the day.
Many times, water villas are built in shallow, sandy lagoons and so there is not the most fish life to see. I always wish that if a resort is going to invest in a glass floor feature, that they make sure it is over some coral cropping that will attract some colourful fish to actually look at. And if there is not a coral cropping handy, then invest in a SeaMarc regeneration frame to start some.
But even where there are few fish, the simple window over the water can have a dramatic feng shui effect over the villa. The light comes into the villa with the characteristically aquatic dappling which brings a bit of the playful spirit of the sea inside.
Sometimes these glass floors are rather modest little portals which nonetheless provide that stylish design touch. But, the most dramatic glass floor I have found in the Maldives is Velassaru's Water Suite which measures an expansive 138 square feet. I used to live in a room that was smaller than that.