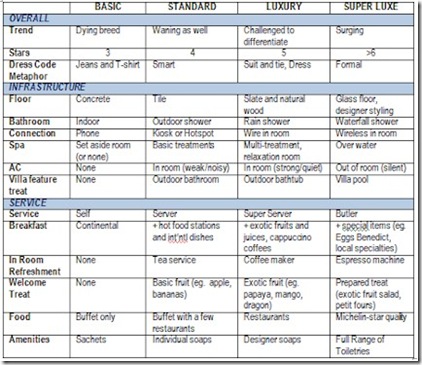 So what are the differences between the ratings? What makes a 5 Star…and beyond?
The following is my attempt to characterise some of the basic and more subtle distinctions between different tiers of quality from my years of experience in the Maldives. It is not just intended for visitors who are often befuddled by the ratings, but also for the resorts themselves. I meet with typically aspirational resorts who really want to call themselves that next higher star and are equally curious about 'what it is that I have to do?'
In many cases, I am over simplifying the distinctions, but in doing so I am hoping to highlight the core of the distinction acknowledging that circumstances and details can vary considerably and need to be taken into account. At least, the descriptions that have assembled here provide a starting point for breaking down what these differences of expectations and offers.
In the Maldives, there are essentially 4 classes of accommodation…
Casual – 3 star: This category is the budget domain. This is literally 'basically' a room. A bed (no guarantees on lumps and typically either too hard or too soft). Often lots of signs of wear all around including something that doesn't work properly or fixed haphazardly (like a fitting replacement that doesn't match the others).
Smart – 4 star: This category of rooms the heartland of value resorts. The rooms are clean, fresh, well equipped and well maintained. The resorts have invested in fresh paint, and good maintenance. But beyond that, nothing really stands out. The materials and fittings used are on the conventional side. Nothing really stands out in terms of style or design. Often the layout is just a bit awkward with big empty spaces in some areas with tight squeeze in others.
Elegant – 5-star: This category is the domain prevalent high-end resorts. The rooms have a real aesthetic design sense with style. They use higher quality materials and fittings. Extra services will be laid on. Wide selection of finely prepared food is on offer.
Luxurious – >5 star: This category is the domain of the increasingly prevalent super-premiums. It is a full 5 star…with extra helping of extravagance ladled on top.
So what does that mean more specifically? I've drafted the table above based on my experiences to help provide some illustrative (not comprehensive nor definitive) examples of the differences.  When I say 'Dress Code Metaphor' above, I don't mean that is the 'dress code' for people on the resort. I mean that if you were describing the 'dress code' of how the resort was 'dressed up' as a property, this is how it would boil down.
The considerations above are intended to be the minimums. For example, many 'Luxury' or '5 Star' resorts offer butler service, or glass floors, or eggs Benedict. Those offerings alone do not make them 'Super Luxe'. But if a resort aspiring for 'Super Luxe' does not have them, then one has to call into question their claim to that standard. To quote 30 Rock, the absence of these things are sort of 'Deal Breakers'.
I tried to keep to areas where I could show a variation across all four groupings, but there are other demarcations. For example, a 5 star and 5+ star should never have plastic furniture (unless it is very distinctively styled). That's a deal breaker on the 5 star rating. Another example is resort features. 3 and 4 star don't require these, but 5 star and better do. 5-star is typically a special bar, restaurant or spa almost always over the water. Super 5+ needs to be something even more imposing. A few super premiums have even gone underwater (eg. Conrad Rangali, Huvafenfushi) to attain that special distinction.
Another consideration to note is that this smorgasbord of options is a moveable feast. Especially in the ever escalating wow-factor arms races, what used to be exceptional is often now conventional. What used to be a big bet, is now table stakes. For example, when I started coming to the Maldives, there were no spas nor Internet. Now, it's inconceivable not to offer these things.