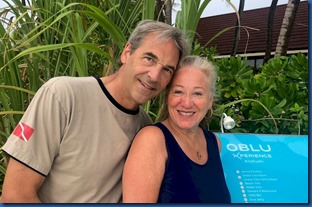 Ailafushi is big in every way. Big in room number (270). The biggest underwater restaurant. A massive pool. And a massive main restaurant (so big that it provides a map of all the stations). In fact, Ailafushi is joined by its sister property Lobigili which makes the entire estate all the more expansive as Lobigili sits like a mirror image opposite Ailafushi.
Since diminutive charm is one of the traditional lures of the Maldives, what does this counter-conventional scale offer in return? More choice in the expansive restaurant. But mostly, the scale economies. The two operations nots only share a gym and the underwater restaurant, but also all the logistics and overhead. Value pricing with water villas under $1000 and beach villas in the $300s.
In addition to intimacy, the other sacrifice is service. The restaurants are entirely self-service. The resort asks you to check yourself in with their app. For people who think the personal butler invasion of the luxury properties is OTT and who are just fine with checking themselves out at the grocery store, then this approach will not be any inconvenience.
And just how much of the classic Maldives experience do you miss with such a new mega-resort concept? You get the same sunsets, the same tropical sun, the same dappled blue ocean. But mostly you get the paradise of the Maldives with lots on offer for a budget price.