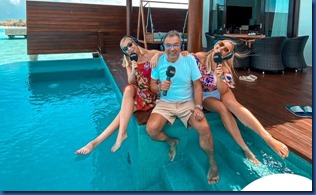 If you can have a show breakfast in the pool, then why not a breakfast show in the pool? German radio station RTL has flown its morning crew to Heritance Aarah for a month of pool-side performances: DJ Arno reports:
"I am lucky enough to be able to broadcast from the Maldives with my morning crew team for the next three weeks. Wonderful in the middle of one of the largest lagoons in the Maldives. Villas on stilts, crystal-clear water, endless white beaches, luscious palm trees and super great restaurants – really everything you only know from postcards. Beautiful! I hope I can bring you that holiday feeling to Berlin on the radio. Or even better: You win the dream trip yourself. Every day at 7:05 am I give you a trip to the Maldives worth 15,000 euros. I hope we listen to 104.6 RTL. And maybe in the Maldives instead of in my dark living room."
No better way to start you day. In the Maldives, that is.