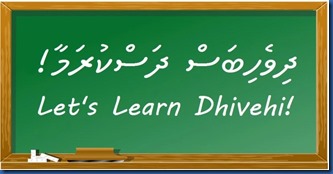 Mother Language Day today. If you want to delve into Dhivehi for a taste of local culture, it's often fun to do it with a partner to both learn with as well as to practice with. SAii Lagoon's Le Be Well spa offers a "Dhivehi for Couples" experience":
"Love, after all, is one of the classic motivations for picking up a new language. When you learn a new language with your partner, it's a bonding understand one of the most rewarding aspects of you try to communicate with them in their own language – Dhivehi, while fostering an appreciation for the traditions, religions, arts, and history of the Maldivians."
You might wonder what would be the use of a relatively obscure language aside from impressing Maldivian staff on your resort visits? One possibility is to have your own personal code back home to converse in. We always remember meeting good friends for dinner years ago who we knew would try to pay for the meal and we wanted to pay. During the meal, they had a chat in Chinese which they said was just a family matter, but it turns out it was them scheming how to get the bill. Another example of such a shared secret language is the "Divine" language in the film "The Fifth Element". Writer/Director Luc Besson invented the 400-word language for the character Leeloo (played by Milla Jovovich) to speak. Only Beeson and Jovovich learned the language and practiced it regularly to help it become natural for Jovovich. They ended up getting married after the film's release so maybe a private shared language does have romantic effect.
Could Dhivehi be your language of love?