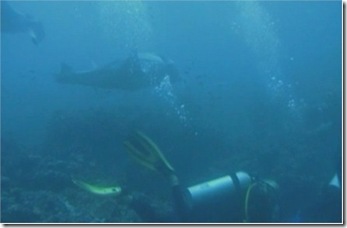 Best dive of my life. When life gives you lemons, make lemonade. It was raining this morning so we cancelled our snorkel trip and went on a dive trip to Manta Point. Coincidentally, Manta Point was the last subject of this blog before my departure for Kurumba and so I was all geared up for brilliant possibilities.
We had been there the day before, but I didn't get to see mantas. Both our son and I had some minor problems with our equipment and decided to come up relatively early. My wife Lori stayed down and saw several. The other dive group with us said they saw three baby mantas which the dive master found humorous ("most Mantas are very graceful moving smoothly, but these babies were a bit uncoordinated and were flapping much more erratically obviously trying to find their sea wings…most amusing.").
So we decided to give it another go today and boy are we glad we did. About 15 minutes in, we rounded the corner and there coming straight at us was three of the most alien looking creatures you could ever see. It turned out to be a parade of large Mantas with some reaching 8 feet across. They turned and circled the coral outcropping which was one of their 'cleaning stations'. Then for the next 15 minutes we just sat there while this group of majestic submarine airships floated, cavorted, did loops. They floated inches over our head. They seemed to be attracted to the air bubbles and I couldn't help think that they liked how the bubbles felt on their freshly cleaned tummies. After all, this coral cropping was like a big Manta 'spa'. Mantas come for miles around to have sucker fish clean their bodies. Maybe the scuba bubbles are a Jacuzzi-like bonus.
They are the most peaceful and seemingly happy creatures I have ever encountered in the wild. Outstanding!
The picture above is from a video taken by Kurumba photographer Mohamed Ibrahim (the diver at the right hand side of the screen at minute 1:09 is around my wife and diving buddy Lori).