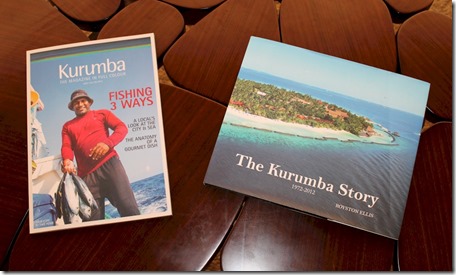 International Book Day yesterday. Unfortunately, in this digital age, books are getting to be an ever rarer commodity. But nothing says switch off from the modern world than curling up on a hammock under some palm trees with a good book.
I haven't seen many resort specific books in my travels. So many books are dominated by pretty pictures of paradise and thinly veiled promotion. But Kurumba's "The Kurumba Story" has lots of substance about the history and day to day life on the resort island. Most people think that you have to go to a "local island" for a "local" ife, but the resorts themselves are their own significant communities in the Maldives landscape with their own stories and characters.
The book looks back in time over 40 years of Kurumba's life as a resort chronicling the emergence of this tiny island nation into one of the world's most coveted tourist destination. It complements the story with an extensive collection of rare and intriguing photos of this vibrant period.
And for some lighter reading, Kurumba also publishes its own Kurumba magazine which again I applaud for focusing more of the intriguing accounts of life in this fascinating part of the world than it does on promoting the resort itself. Their latest issue includes the following articles…
"Casting Calls" – Examination of the difference between hand line, big game and other types of fishing, traditional and modern.

"The Tree of Life" – Peon to the eponymous Coconut tree.

"Raising the Bar" – Staff profile of one of our favourite people on the island, Hillary.

"Loyal Friends" – Guest profile of a family that have visited Kurumba 72 times (!)

"Above & Below" – Staff profile of Momo (who did our great manta videoing)