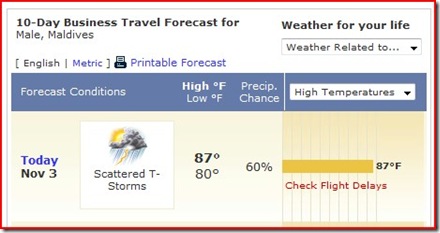 One of my greatest fears when visiting the Maldives in past years was not sharks in the ocean, or travel complications, but the weather going sour. It was all so perfect that you just wondered whether it just might turn some day. We have generally visited in February which is the absolute best/dryest month for ensuring the best whether, but we have also visited in June and October. Out of 6 weeks of visits, we have encountered only a single afternoon rain shower that lasted about 20 minutes. In fact, it was so unusual, and we were already wet from snorkelling, that the rain was somewhat of a curious novelty that didn't hurt the holiday one bit.
Still, each day when we woke up, the room was always dark from the shades being pulled and being so dark I wondered if when I pulled the shades, I would reveal a dreary, grey day for once. Well, every single time, I opened the windows to a sparkling sunny morning with bright blue skies. It seemed just uncanny how regularly bright and sunny the days were.
So you can imagine my trepidation when I looked at the weather for this weeks stay and every single day of the week forecast "Scattered T-Storms" (see graphic above with its ominous dark cloud and lightning bolt!). We are officially at the end of the May to November 'monsoon' or 'rainy' season. But having visited during this period before without seeing a drop of rain, I wasn't overly apprehensive. Plus, it was 'at the end' so statistically any raininess would in my logical mind be tapering off if anything.
Well, we arrived to scattered clouds some of which turned into a torrential downpour for about half an hour. That was interesting, but then it stopped and the rest of the day was cloudy, but very warm (30 degree Fahrenheit) and it was thoroughly pleasant. In fact, the rain seemed to perk up the many flowers and soften the landscape. Then yesterday started with a mostly cloudy skies, but plenty of inspiring blue and all and all a very pleasant weather. As it happens, another 30 minute downpour came down in the late afternoon, but it was while we were napping after our afternoon dive and we didn't even know it had rained until we emerged for Pina Colada time by which time things had settled nicely.
Today should have been my worst fear. I woke up early, pulled the curtains back and there was a steady rain outside. Mind you, it's not as nice as waking up to sparkling sunshine, but it was not as bad as it could be. Somehow the day is brighter than when it rains in England. The sky is white with cloud, not grey. The rain is warm, not chilling. Not bad for a periodic change of pace, but if a lot of the week was going to be like this, then I would start to miss the dazzling sunshine certainly.
There certainly are downsides to the clouds and rain. Less eating outside (more windy and wet), less lovely ocean sunsets (though a little bit of cloud is ideal to create the best sunsets), less sunbathing (not my thing).
Actually, when it stopped, it made you appreciate the good weather more ('yay, the rain stopped'). Another bonus of the still cloudy skies was the perfect temperature, perfect lighting for reading outside. Interesting that the rain and cloudy days haven't 'ruined' the Maldives, but just sort of muted it. Sort of like a delicious meal that needs salt and pepper. Maldives without sunshine is like a savory stew of paradisaical delights that just needs that dash of spice for perfection. Maldives without the sparkle, but still the glow.
Nonetheless, despite being the absolutely worst day of weather we had ever experienced, it turned out to be one of the best days I had spent here (great dive in morning, perfect outdoor reading conditions midday, superb snorkel with the family around the house reef in the afternoon). There is an old bumper sticker which says 'A bad day sailing/golfing/etc. is better than a good day at the office.' It just goes to show you that 'A bad day in Maldives is still better than a good day just about anywhere else.'