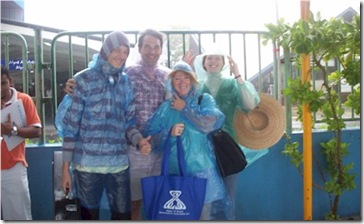 As we transferred to the Male airport for our departure, the Maldives hit us with everything it had left in its rain/wind/storm system as a final inclement send off. While it certainly made saying good-bye easier, we reflected (as noted in my 'Stormy Weather' post) how little it had ruined the vacation.
We had just about come to terms with these plusses and minuses until our final day when we woke up to what seemed to be National Monsoon Day. Scores of splashy downpours paraded by one after the other each one trying to outdo the previous one. The umbrella was pretty useless because the rain hit the ground so hard that it bounced up and attacked you from underneath. Still, when the weather broke a little we still went out for a family snorkel. The weather acted up a bit and it was a bit funny snorkelling in a monsoon but 'under the sea' everything was calm and we saw this giant stingray digging for food in the lagoon.
I think there were several keys to enjoying the holiday despite such a string of bad weather days (which all the veterans noted was uncharacteristically poor…statistically November is the 6th driest month) which are hints for the many travellers I meet who fret about the sunshine…
Enjoy each other's company – The trip for us was a long overdue family get together and being together, playing board games, joking around, was half the fun that the weather didn't touch. I think if your fellow travellers were not your favourite people, the time in the confined space would be a bit less fun.
Not sunbathers – Many people do come to the tropics for lounging in the sun and working on that tan. If that is a key objective to the holiday, then there is not much solace to be had in missing sun (no pun intended…oh well, maybe a bit).
Undaunted – Many would have hunkered down with even just the regular threat of wind and rain, but we boldly went out on activities like snorkelling and visiting Male and they all worked out fine if not as spectacular as a sun-drenched day would have been.
Upbeat Attitude – Every one was pretty upbeat constantly. Appreciating the many upsides and savouring the delightful experiences and striking beauty that takes more than a little rain to dissolve.
The forecast early in the week was right and we had rain every day. While the rain came down in torrents, it only lasted 20 minutes or so. The downer was not the rain but the clouds. As stated previously, the lack of sun seemed to mute the Maldives experience and take away its sparkle. It was a lovely holiday, but not idyllic. It had its silver linings (easier reading, more mild temperatures), but more downsides (no sunbathing, less dazzling, less visibility and warmth snorkelling). It just goes to show you that even in ugly weather, the Maldives is beautiful. The major impact of unkind weather is that instead of the Maldives being 'wow', they were only 'wonderful', instead of being 'exhilarating', they are only 'excellent'.