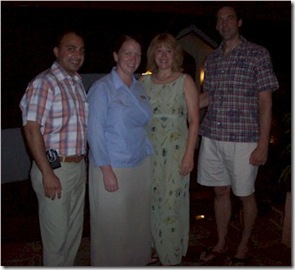 Well, we say goodbye to our now beloved Maldives and our new dear friend, Kurumba. I started the week with a 'first impressions' post and thought that I would finish with a wrap up review. As the week went on I certainly began to appreciate more and more about the resort, though a few things did start to irritate me.
The irritations first. I've already mentioned in my 'Meal Plan' post my frustrations with dining locations so I won't belabour that point. One of our favourite locations was the ocean side bar. Great room, drinks, service. The only thing to fault it was the tiresome and repetitive muzac. Our kids played a game to bet when the next playing of Kanye West's 'American Boy' was coming around again. Seriously, for a place this classy, it deserves classy music to set the atmosphere (they had a live band mid week which was excellent actually). I recommend something simple and acoustic like a gentle jazz piano or Spanish acoustic guitar.
Now, the extra good stuff. First and foremost has to be the extra good staff (two of which are Operations Manager Ankush and Guest Relations Eilidh in the photo above) . And the Maldives generally has a superior standard of service anyway. Certainly, everyone was very friendly and attentive. In fact, we met a couple from Wales who had been to Kurumba several times and always come back because they are convinced that the resort has the best staff in the Maldives. That is a pretty tall and subjective claim, but I have no specific argument against it. But above and the call of duty examples included Myat Su who lent us her personal memory stick to help us fix a computer problem. The games they have stocked for use included Scrabble and Chinese Checkers (two of our family favourites) that were a real godsend (and directly boosted bar sales for two nights).
Also deserving of special mention is the landscaping. The more time I spent and explored, the more I appreciated the landscaping. Really impeccable and colourful. I liked that the foliage between the beach villas and the water was just enough to provide colour, shade and visual interest, but not so dense as to actually obstruct the view (a problem that I often bemoan with other resorts). They even have a nursery where they cultivate tons of orchids and other flowers for use on the resort that you can go into an explore. Also, the design feature of the numerous, rectangular pools was a lovely touch.
Finally, the Aquum spa was excellent. I am a bit of a Thai massage connoisseur and therapist Dinny executed several complex moves that I had never before had. Our daughter doesn't dive so we treat her to a spa treatment instead and she reported that therapist Lyle gave one of the best massages that she had ever had. They also had very good spa music.
All and all, I would highly recommend Kurumba without reservation as a value for money, top quality resort. Be aware of the impact its proximity to Male and the prevalence of concrete walkways and dining areas has. A couple types of visitor that I think would find Kurumba especially appealing would be mobility constrained and larger groups. The concrete actually works in favour of people with mobility issues and Kurumba has ramp access nearly everywhere. Also, I think groups (extended families, corporate team/groups) would work well at Kurumba because there is such a range of offerings and choices that there is something satisfying for everyone. Some of the more boutique resorts in the Maldives are amazing in certain special ways, but sometimes those 'ways' are not everyone's cup of tea.
If you like lots of choice, great food, great service, great gardens, convenience to Male, then Kurumba could very well be a top choice for you.