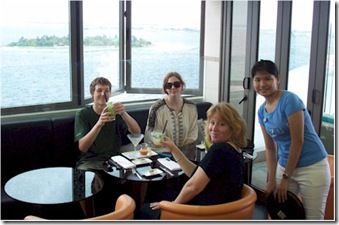 One of the commonly offered excursions by resorts in the general Male area is a trip to visit Male. Male is the heart of the nation with a third of its population. We always landed right next to Male, but never actually ventured into it. The planning of this trip was actually influenced by my desire to visit Male to do some research for MaldivesComplete and so the whole family decided to join in for a change of pace and to see this tiny, island capital.
The family visited the National Museum (a small, unassuming place), the Islamic Center, the Friday Mosque (the oldest mosque in the Maldives made entirely out of coral), the Mulee Agee (presidential palace), the and the local fish/fruit market (see picture below). The whole guided excursion combined with some souvenir shopping took about 3 hours. And that was pretty much all there was to see in Male. It really provided a taste of the 'real' life of the Maldivians with the toing and froing of their national hub.
We then met up for lunch at the new (opened September 2009) Holiday Inn Male at their rooftop restaurant, Azure (see picture above). It was a real gem of stylish design, great views, brilliant fusion oriental cuisine at very reasonable prices and a number of other treats ('Best Of' blog posts coming soon on these).
A number of people ask about visit and staying a Male. I think our visit was just right. Worth it if any of these activities appeal to you. If you wish to or want to spend a day there, I highly recommend the Holiday Inn. As mentioned, the restaurants are top notch, the rooftop infinity pool a treat and a handy spa also had fine treatments at competitive prices so plenty to fill one's day.