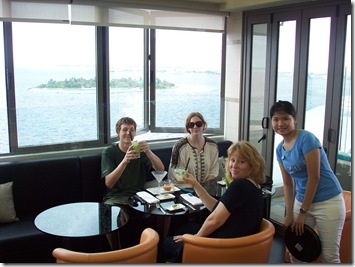 At 13 floors up, the Azure restaurant (and pool) of the Holiday Inn Male is the best hotel view in the Maldives. I counted 17 islands visible from this elevated perch not to mention the many toings and froing of boats in the harbour and the surrounding environs.
Normally, I would hesitate to include Male hotels as 'resorts'. It has no beach, no alcohol (Male is 'dry' while the resort islands are granted special licenses). However, I do have the Nasandhura in Male as well as the Hulhule resort on Hulhule island which is more like Male in characteristics than a dedicated resort island. Also, I suspect that a number of Holiday Inn 'Priority Club' member maybe interested in exploiting their points as a vehicle for getting to the Maldives.
The Azure restaurant shown here just opened the 15 October and features absolutely delicious fusion (French/Japanese) dishes.
If you are looking for a 'room with a view' in the Maldives, Holiday Inn Male is the highest and furthest.