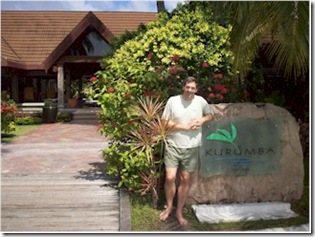 We've arrived at our resort Kurumba. We chose Kurumba as a good value, highly rated resort near Male and pretty much it delivers on all fronts. We will see how the week transpires to uncover the pleasant surprises and the annoying disappointments, but here are my first impressions.
Kurumba makes me think of the 'Marks and Spencers' of Maldive resorts (or for Americans, the analogy would be 'Nordstroms') – high quality, nothing to fault it, fine service, fine choice, but still a big, commercial establishment rather than a charming boutique. A perfect place to go for that safe and standardized, but don't expect the magically quirky and distinctive. Perhaps another retail metaphor would be that it is Selfridges not Harrods or Nordstroms not Bergdorf Goodman.
BUILT UP AREA – The first thing that really defines the character of Kurumba (which can be said for all of the Maldives resorts) is its location. Kurumba is one of the closest to the main centre of Maldives' capital Male. What that means is that you are surrounded by lots of other developed islands (in more remote islands, there are often other islands around you, but they are deserted), big freighter ships, yachts, the city of Male itself (quite a relatively modern and prominent area across the water), and airplanes coming and going from the airport. I hadn't thought that the latter most one would be of bother, but I think now that Maldives has developed more as a destination and a country, the air traffic is that much more and the take-offs and landings of quite big jets is quite regular and has a palpable effect on the peace and quiet of Kurumba.
CONCRETE – Perhaps the most prominent feature that really transforms that 'feel' of the resort itself is the pavement. Paved walkways, concrete infrastructure, solid restaurant floors. Great if you (a) want easier walking, (b) are fashionable and prefer to wear dressy shoes around (I personally prefer going barefoot *all* week, but I did see someone in high heels at breakfast this morning), or (c) mobile handicapped (in fact, I would hazard that Kurumba is the most wheelchair accessible resort I have seen with not only the paved walkways, golf carts to take people around if needed and lots of ramps to structures). Furthermore, a number of areas appear to be concrete with a layer of sand laid over them. Unfortunately, some of the sand has blown away exposing the concrete in many areas. Finally, all of the restaurants have floors. I really miss the sand floors of so many resorts that I have been to. Again, if you are into wearing nice shoes to dinner, this might actually be a plus for you. But for me and my barefoot existence here, it is a drawback. On top of that, they do not offer any dining on the beach. Most resorts at least hold BBQs and special events on the beach once a week. Others allow you to move a table from the restaurant down to the beach. Kurumba was very unwilling to do the latter when we dined which really gets up my nose. If I am at an ostensibly 5-star hotel and paying $40 per entree (yes, that is a typical price a la carte here) and I want to move my table 10 feet to enhance the experience, then I had better be able to do so. That is what real service is all about. Not just pushing in your chair for you and bringing your breakfast omelette to your table for you. 🙁
I would recommend Kurumba for very conservative travellers, or those who prefer a more elegant and refined resort at a price you can afford. Kurumba is often advertised as a 5 star rating, but that seems a bit dated and I would put it more at 4.5 which is where the TripAdvisor rating comes in at. Still, it is one of the least expensive advertised 5 star places, and hence best value, that I have come across. Our daughter Isley said that the resort had less 'romance' than the others we had visited (this is our 7th trip to the Maldives). She didn't directly mean in it in a love-and-kisses romance way, but more in an aesthetic, idyllic way, but the characterisation definitely holds for that kind of romance as well obviously.