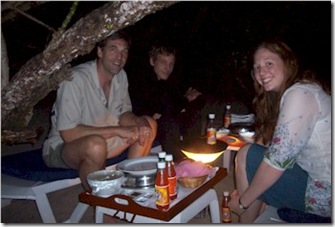 Not only did we do our whole trip DIY (buying resort, air travel, connections all separately), but we also opted for the a la carte meal plan (versus full or half board). This decision of which meal plan is one of the most prominent in deciding a Maldives visit.
We are happy with the a la carte for the following reasons. First, Kurumba has lots of restaurants (10) to choose from. Perhaps a smaller island would have less choice and restaurant options and this advantage would be less strong. Secondly, we prized flexibility whether we even ate. We had planned on going to Male for a day where we had lots of options to dine quite inexpensively so not having to pay for this day is an advantage. Also, 3 of our 4 strong party are watching their diet (and the 4th is not a big eater) and so several times we either skipped lunch after a big breakfast or felt like a small snack for dinner after a big lunch.
So far this week, our decision has been by and large a good one. Kurumba offers a $50 (+10% service) half board supplement and a $80 (+10% service) full board supplement. If we had taken either of those, we probably would have saved some money on our total meal bill. But, our meals would have been confined wholly to the Vihamana restaurant with its themed buffet style eating. I checked out the buffet and the food looks diverse and delicious. But you are still stuck with the selection on offer that night rather than the whole range of the other 9 restaurants.
Perhaps more of an issue is the dining location. This issue was particularly acute because all of the restaurants have tiled floors. We much prefer the sand floors so many resorts offer. Though natural floors are not everyone's cup of tea, most people I speak to about the Maldives do prefer them and in fact find it one of the 'wow' factors. Also, all but one of the restaurants are quite removed from the water's edge (and lovely ocean with its gently lapping water is a defining characteristic of the islands obviously). Going a la carte, we had more options to eat 'where' we wanted to. Some of our best meals were in special locations. The first was the beach side eating area by the pool. This spot is the best dining area on the island and yet they close it for dinner. Go figure. Probably my biggest beef with the resort is this issue.
One way we managed a 'beach dinner' was to order room service. The room service menu is a rich selection of offerings from the various restaurants which when it arrived we simply took it outside to our beach chairs and tables to eat by the ocean and under the palm trees. It was the kind of exotic setting that we savour in the Maldives. We since found out that the resort rules say "Glass containers or any other breakable substances that shatter, are prohibited on the beach." We didn't bring any glass, but I guess the plates would officially be 'breakable…that shatter' (though hard to do on soft sand). I guess if you want to follow our lead for romantic beach side room service, you might want to bring some plastic or paper plates to move your meal to in order to abide by the rules strictly.
Also, the food came in very generous portions. Halfway through the week we figured this out and made it a family rule that we could only order one portion (side or main) because that was almost always enough. If we have stuck to that approach, we would have saved more money early on and probably would have gotten our food bill down to the supplement costs for the standard service. Still, we would have preferred our approach because our dining was more distinctive with more special settings. Some honeymoon friends adopted the strategy of sharing portions which also worked well to halve their food bill.
Overall, the food was uniformly without fault and on many occasions truly distinctive. Of particular note were the soups (especially the gazpacho), sushi platter, and Black Bean Beef (Chinese). Food quality is a real plus at Kurumba and I hope they make some changes to make the eating locations just as special.
PS. Love the tables at the Ocean Reef restaurant. We are thinking of making similar ones for our own dining room table we liked them so much.