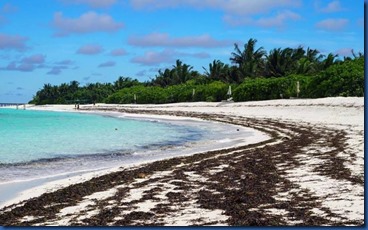 Not the Martha and the Muffins classic, but a new perspective on beach beauty by Six Senses Laamu who are preserving vibrant marine life even if it means much bigger landscaping budget (thanks Paola):
"It takes a lot of effort to maintain the picture perfect white beaches and powder blue turquoise lagoons at tourist resorts. Many of the resorts in the Maldives actively destroy their seagrass beds to maintain this facade. Six Senses Laamu has changed this attitude and are now actively promoting the protection of their seagrass beds as they are a haven for megafauna including green sea turtles, sting rays and baby sharks in addition to being a nursery for juvenile fish, providing oxygen, storing carbon, improving the health of adjacent coral reefs and preventing erosion of the island."
The resort clarifies that "We have a team of gardeners at Six Senses Laamu that rakes the beach and place the dead seagrass in the jungle so that it can still contribute its nutrients to the coastal system, while also ensuring guests can use the beaches."
For an helpful introduction to the importance of sea grass in the Maldives, check out the video below.