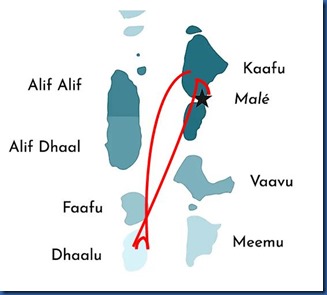 This was my most difficult tour yet. In fact, research trips have gotten more and more challenging in recent years. Primarily driven by the scourge of "influencers", but lots of other variables as well. With zero revenue for the Maldives Complete website, the cost of research is high in the best of times. If I am paying full rack rates (as well as lots of extra and expensive transfers) for the privilege of spending 24 hours running around to get content and promote the destination and resort, then the cost-benefit equation for all the work I do year-round tends to be questionable. Part of the motivation was the enthusiastic greetings and often special support and consideration given to my visit.
With American Labor Day weekend upon us, I reflected on tis labor of love enterprise and the changes from when I started Maldives Complete in 2009 and now 14 years later. It is a lens to how the industry has changed in 14 years:
Resort Organisation:

Before: Most resorts were local with limited marketing resources who welcomed any assistance.
Today: Most resorts are international with big corporate marketing departments in some remote country

Web

Before: When I started, the resort websites were very basic and there was a thirst for my content creation.
Today: Maldives content is commoditised with every guest cranking out material in Instagram and TripAdvisor posts.

Ministry of Tourism

Before: The MMPRC embraced the Maldives Complete site and helped me extensively to get materials. The destination was a bit of lesser-known niche sun-spot for Europeans.
Today: They don't return emails now that they have been turned into a global bucket-list destination with the lifestyle porn abounding on social media.

Industry

Before: The tourism industry was relatively small and there was a close-knit community of people involved with it who all helped each other out.
Today: The sector is several times larger and mostly corporatised by remote bureaucrats.

Price Points

Before: Starting as a dive destination with basic accommodation, the Maldives resorts started going mostly into mid-market properties with a few luxury properties sprinkled amongst.
Today: Now the majority are luxury (if you have a limited amount of real estate, get the most you can for each square metre) and many are super-luxury. As a result, even with industry rates, the costs of a visit are huge (not problem for operators who can just write it off, but a direct expense to me).

Transience

Before: Long-term players were prevalent…people who embraced the destination for extended periods allowing relationships to form.
Today: Short-stint secondments by corporate staff are more prevalent making supportive relationships harder to nurture.

Atoll Logistics

Before: I used to choose an atoll each year to fly to and then island hop around fairly easily.
Today: Having been to every major atoll, fashioning an itinerary of resorts involves longer, complicated, more expensive transfers to get to the far-flung outliers I have so far missed.
The question remains, "In the Digital Age, is there any need for in-person visits to the Maldives to research the website?" The question is no unlike the one circulating the post-COVID corporate executive suites about how important face-to-face time is and how much companies should encourage if not force staff to return to the workplace. I have always held (for over a decade) that remote working is not an "either-or" question, but a "how much" question dependent on the dynamics of the job(s) to be done. And similarly. Keeping Maldives Complete…well…"complete", requires a non-zero amount of time on the ground at the destination.
The benefits boil down to three key areas (which are pretty similar for any remote working):
· Relationships – One of the top arguments for spending SOME time together in the remote working is relationship building. In my work environment, I always try to meet someone face-to-face even if most of our interaction will be remote. Establishing that initial introduction and rapport facilitates the teleconferencing interaction, but cannot be effectively achieved by it. In many cases, I end up with more material from the resort after the visit than during it. The reason is because having been there and gotten to know the (right) staff, they understand me better and are more responsive and effective in forwarding me useful material for the site.
· First-Hand – The terabytes of information are great for basic research, but there is just no substitute for seeing the whole property, in context of both the surroundings and the minute details often overlooked or not visible in the countless pictures. Especially as Maldives Complete's blog often focusses on the unique and distinctive, those features can be hard to search for online when buried under a mountain of the same old pictures of palm trees and blue vistas.
· Serendipity – The final benefit to "getting over there" is the sheer serendipity that happens when you are in the thick of things. Bumping into people you know (in fact, I created a "Crossing Paths" tag in the blog to mark these occasions) or other interesting staff or guests who just happen to be around.
Actually, one of the books I brought and read on this trip is a travelog about the Maldives: "Gatecrashing Paradise" (stay tuned for post about it) which included a fine quote from travel writer Paul Theroux justifying the need for re-visiting in this digital age:
"If the Internet were everything it is cracked up to be, we would all stay at home and be brilliantly insightful. Yet with so much contractor information available, there is more reason to travel than ever before: to look closer, to dig deeper, to sort the authentic from the fake, to verify, to smell, to touch, to taste, to hear, and sometimes – importantly – suffer the effects of curiosity."
I'll keep pushing forward trying to see as much of the new Maldives as possible (I think I have seen all but a handful of the resorts that were around when I first started the website).